Patient Comments
"Infertile couples from all over the world come to St. Louis, Missouri, to chase their dream, because Dr. Sherman Silber and his team are simply the best there is." – Discovery Health Channel Documentary
---
Patient Comments
The Max and Natalie O. Story – Idaho
We just wanted to share our story in the hopes that it may bless others.  My husband and I married in 1998.  We realized we probably would not have children right away because he had had a vasectomy after his second child with his first wife.  We were hoping it would fail and we would "accidentally" get pregnant.  But after 6 years of marriage we figured that wasn't going to happen.
So I began researching options for vasectomy reversals.  We finally decided on an outpatient procedure that was within our budget.  So in 2004 we flew to TX and went through a very unpleasant experience to say the least.  To make matters worse, the procedure was unsuccessful.  Over the next 8 years we looked into adoption and other options, none of which would work for us for various reasons.
In 2011 I began researching vasectomy reversal again online.  That is when we discovered Dr. Silber.  We made the arrangements and had the procedure done in 2012.  All the staff were very professional and kind.  Our experience was thankfully nothing like the first time with the clinic in TX.
We were happy to find out several months later that the procedure was successful.  However, after two years I was still not pregnant.  We began thinking that maybe I had hormone issues.   I was tested and did have some imbalance.  I took supplements etc. for over a year and still nothing.
That is when we decided to look into IUI treatments.  We arranged to have it done in Costa Rica because of the quality of care and the reduced cost.  Praise the Lord we were pregnant after the first treatment.  We found out on Thanksgiving Day 2015.  It all happened in the Lord's timing.  After 18 years of marriage and lots of prayer, our little Elyana was born.  Her name means "the Lord has answered".
Max and Natalie O.
Idaho
---
The Pham Story – Tulsa, OK
We wanted to share our appreciation to Dr. Silber, Dr. DeRosa and their staff.  We are truly blessed with the arrival of daughter, Avalynn Grace.  Families that have gone through the journey of trying to have a child know the significant challenges involved. The emotional and financial requirements demand strength and determination from the families.  The process can be full of disappointments, heartache, and even unexperienced doctors.  Dr. Silber, Dr. DeRosa, and their caring staff showed us that with experience, determination, optimism, and compassion, we can succeed.  We have a beautiful daughter today and are truly thankful to them.
The Pham Family
Tulsa, OK
---
The Dieffenbach Story – Fenton, MO
Dr. Silber and his team are our heroes and here's our story why:
After over a year of trying to conceive naturally and 5 rounds of IUI, a surgery to remove endometriosis revealed that I had many other medical complications that would make getting pregnant naturally very difficult. After much research, we decided to pair up with Dr. Silber.  He explained that with the complications I had, our best chances of having a baby would be through in vitro fertilization and he suggested that we do the mini- stim cycle. One thing we noticed right away was that Dr. Silber had an eye for detail, my husband and I were both tested for various conditions, as to not miss a thing and increasing our chances of conceiving. We were both excited and very nervous to start the process. In January 2016, I started the stimulation medications, which with the help of Dr. Silber's coordinator, Rachel, the process seemed smooth and organized. I loved having my own personal coordinator who I could call or email anytime and get an almost immediate response back. We ended up getting over 20 healthy eggs and 11 beautiful day 5 embryos. 
Skip ahead to May 2016 when we transferred one healthy embryo back to me. It worked!! We were finally pregnant! And on January 12, 2017, all our dreams came true as we welcomed a gorgeous 6 pound 6 ounce baby girl with blue eyes and lots dark brown hair!! We could not be more thankful to have Dr. Silber and his team in our lives.
We will hope to give our little girl a brother or sister in the near future and we will be using Dr. Silber yet again. I highly recommend to anyone I know experiencing infertility to seek out care at the Infertility Center of St. Louis. 
The Dieffenbach Family
Fenton, MO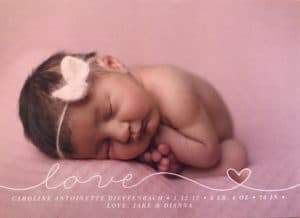 ---
---
---
---
---
---
---
---
---
---
---
---
The St. Ores Famliy – Bryant, IA
---
The Staleys Family – Springfield, IL
---
The Caterina & Zmuda Family – Baltimore, MD
---
The Chey Family – TN
---
The Post Family – St. Louis, MO
---
The Pinkerton Family – Belleville, IL
---
The Lace Family – Ozark, MO
---
The Odunsi Family – Lagos, Nigeria
---
The Greenwell Family – Englewood, OH
---
The Fullerton Family – Belfast, Ireland
---
Branden & Angel – Cedar Hill, MO
---
The Andedo Family – Rock Island, IL
---
The Heard Family – Colorado Springs, CO
---
The Mondy Family – Old Monroe, MO
---
Tracy & Heather – Omaha, NE
---
The Coco Family – St. Louis, MO
---
The Kortan Family – Palco, KS
---
The Kaput Family – Plainfield, IL
---
The Seaton Family – Collinsville, IL
---
The Ruff Family – Bay City, MI
---
The Powell Family – Moscow Mills, MO
---
William & Wendy – St. Louis, MO
---
The Tritt Family – Amery, WI
---
The Colgrove Family – Fenton, MO
---
The White Family – Wichita, KS
---
The Brokering Family – Granite City, IL
---
Cathie & Roger – Imperial, MO
---
Jason & Beth – Ballwin, MO
---
Scott & Elizabeth – St. Louis, MO
---
The Lis Family – Lockport, NY
---
The Manganelli Family – St. Peter's, MO
---
Mark & Alyssa – Chatham, IL
---
The Jennings Family – St. Louis, MO
---
The Earl Family – Salem, OH
---
The Vander May Family – Chadron, NE
---
The Starck Family – Wildwood, MO
---
The Gelnar Family – Columbia, MO
---
The Schroer Family – Clay City, IN
---
Learn more about:
---
The Stevens Family – Italy
---
The McIntyre Family – Steeleville, IL
---
The Damron Family – Honolulu, HI
---
The Turner Family – Jefferson City, MO
---
The Cummines Family – Brighton, IL
---
The Fredman Family – Marion, IL
---
The Propst Family – Jefferson City, MO
---
The Lower Family – DeSoto, MO
---
The Harvel Family – Clay City, IL
---
The Augestein Family – St. Louis, MO
---
Jess & Cecil – East China, MI
---
The Sapp Family – Keokuk, IA
---
The Hinthorne Family – Bethalto, IL
---
The Robertson Family – Summer, IA
---
The Marti Family – Highland, IL
---
The Needy Family – Fenton, MO
---
The Coleman Family – Cleveland, TN
---
The Kronemer Family – St. Louis, MO
---
The Parvin Family – Rossville, GA
---
Kumar & Remya –
---
The Snider Family – IL
---
The Nguyen Family – Fenton, MO
---
The Hermsmeier Family – Quincy, IL
---
The Boyer Family – Richwood, MO
---
Tammy – IL
---
The Logan Family – Eau Claire, WI
---
The Soon Family – Kuala Lumpur, Malaysia
---
The Blase Family – MO
---
The Quinones Family – Sioux Falls, SD
---
The Click Family – Palm Bay, FL
---
The Carlton Family – Florissant, MO
---
The Ronich Family – New Hope, MN
---
The Cooper Family – St. Louis, MO
---
The Birk Family – Jackson, MO
---
The Barnett Family – Oklahoma City, OK
---
The Wierzba Family – St. Louis, MO
---
The Emge Family – St. Charles, MO
---
The Hensley Family
---
The Mayes Family – Kirkwood, MO
---
Christine & Don – Farmersville, IL
---
Colleen & Liam – St. Louis, MO
---
The Holliday Family – Holton, KS
---
Dorana & John – St. Clair, MO
---
The Doell Family – Wentzville, MO
---
The Haak Family – Belleville, IL
---
The Zoellner Family – St. Louis, MO
---
The Varisco Family – Plainfield, IL
---
The Mitchell Family – St. Louis, MO
---
The Beck Family – Springfield, MO
---
The Tait Family – Quincy, IL
---
See also:
---