Patient Comments
If you have any questions, you may call us at  (314) 576-1400.
Dear Dr. Silber,
Before we found Dr. Silber, we had no hope for a future as parents. We were told by several physicians and their staff to "give up" …literally… we were told to give up. I spent two years trying to deal with that reality, then I ran across Dr. Silber's website and I read his story and I started to cry. For the first time in years, he had given me back my hope and I was allowed to start dreaming again!
I was so nervous when we sat down to speak to Dr. Silber, because I was afraid he was going to tell us that it wasn't an option, that it wasn't going to work. We sat there listening to him explain the surgery, the recovery and the expected outcome. He was warm, inviting and encouraging! We left his office that night with smiles from ear to ear!
The surgery went off without a hitch, and recovery was quite simple. The staff at the hospital were professional and kind, and we left St. Louis with an unimaginable amount of hope in our hearts! All of Terry's sperm counts came back well above the "normal range" and slowly we began to realize that it had worked and we were going to be parents! All of our physicians back home were constantly amazed at how high Terry's counts were. We heard doctors say frequently as they looked at his count results, "How long was it between your vasectomy and reversal?".
Dr. Silber didn't just reverse my husband's vasectomy, he instilled hope in our hearts, which had been stripped away… and he allowed us to dream again… and those dreams came true!
Thanks so much for being the people who give back the hope!
Update from the patient:
Just wanted to send you an update for our family. In December we welcomed our second set of twins! From years of being told we'd never be parents… to becoming a family of 6! We just want to thank you all for the work you do! Thanks again!
Billie Jo, Terry, Elijah, Liam, Delaney and Kellan St. Ores
Bryant, IA
---
Our Testimony
We knew getting pregnant would be difficult. Ever since her early 20's, Julie was battling endometriosis, ovarian cysts, and the loss of one ovary. By the time we came to Dr. Silber, we had already gone through failed treatments with fertility drugs from a specialist, as well as three IVF cycles through another clinic. We heard about Dr. Silber's pioneering work in the field with "hopeless" cases like ours, along with the compassion he and the staff have for their patients, and we knew it would take something quite innovative to help us.
We told Dr. Silber and Dr. Pineda this would be it, and we would not try anymore after this last attempt. We were emotionally, physically, and psychologically done. Knowing that Julie was about to turn 40, Dr. Silber decided to give us a better chance by using his insight to tweak our protocol even more, and put one extra embryo in.
His innovation and precision worked! Our little Alexander Eugene was born in February 2008, healthy at 5 lbs. 12 oz.
But our story doesn't end there. Lucas Mueller Staley was born in June 2010. We now have two healthy boys! We truly believe that without Dr. Silber's innovation and compassionate persistence, we would still be struggling. Alex, our IVF baby helped re-set everything and allow us to have our second child, Luke.
Today we are blessed, more than words can say! We thank God every day! Thank you for bringing us to Dr. Silber, Dr. Pineda and their staff!
Update from the patient:
Saw your posting on Facebook and wanted to just touch base and say hello…..along with how grateful we are for what Dr. Silber has done for us. We keep Dr. Silber's link on our website so we can share with others the great things he has done and can do for anyone else struggling with infertility. We also share his information with couples we know need help, via our family charitable foundation. We are always happy to share his news in any way we can!
The Staleys,
Mark, Julie, Alex, and Luke
Springfield, IL
---
Dear Dr. Silber, Dr. DeRosa and all of the wonderful staff,
When my husband was diagnosed with leukemia as a teenager, sperm banking was almost an afterthought. Luckily, a single sample was obtained and frozen before the chemotherapy left him infertile. We met 12 years later and never dreamed achieving pregnancy would be a problem. After all, we had frozen sperm.
We first sought help in September of 2009 at a local fertility clinic in Baltimore, Maryland. We were devastated to learn that the sperm sample was limited in quantity and quality. The doctors advised us to consider a sperm donor or adoption.
Several weeks later, I woke in the middle of the night and started researching IVF and ICSI in situations where sperm quantity was limited. I was delighted to learn that Dr. Silber was an expert in making dreams come true for couples like us. I immediately called the Infertility Center of St. Louis the following day and arranged for my husband and I to fly to Missouri to meet with Dr. Silber and his team.
We were immediately impressed with Dr. Silber's confidence and the professionalism of his entire team. He was not afraid to take us on as patients and, most importantly, Dr. Silber gave us options that did not involve a sperm donor. We made plans that day to return to St. Louis for an IVF cycle.
Prepping for IVF from across the country was amazingly easy and I cannot say enough about the competence of Dr. Silber's staff. I NEVER worried about anything the entire time because I knew Karah would be calling faithfully with instructions. She was always available to answer any questions, no matter how silly they seemed. In July 2010, I underwent IVF/ICSI with my husband's frozen sperm. Thirty six weeks later, we welcomed our beautiful and healthy twin daughters into this world.
It hardly seems enough to say "Thank You" for all you have done for us. Dr. Silber and his team have made our dreams come true and we are so thankful that there are people who have dedicated their lives to helping infertile couples like us. We thank God everyday for our little blessings!
Anthony Caterina, Joyce Zmuda, Ma
---
Dr. Silber and Staff,
I cannot express enough how much you all have meant to me. Our journey first started together in the winter of 2003. You all treated me no less than a member of your family, answering even the craziest of questions I have had with patience and eagerness to answer me. I will never forget my first email to your practice with a first hopeful surgery question of ovary transplant and Debby Grenia just replied and said "maybe you should call the office." There was more to the reply, but I just laugh thinking what she must have been thinking reading this email! Since then there have been so many great ladies that I smile, even now, thinking about.
You, Dr. Silber, I really adore! You worked hard with each surgery I have had, always looking for an improvement way of doing things. You have been a blessing to me and my family and we have loved our treatment and care with you and your faithful staff! Our 2 beautiful daughters are a result of God's blessings, your brilliant knowledge, and your staff's commitment.
Thank you for everything you continue to do!!
Stephanie & Kevin Yarber
Anna Grace & Addison Chey
Tennessee
---
Dear Dr. Silber,
We tried for years to have a baby, experimenting with lots of homeopathic treatments and completing test after test in an effort to understand why we weren't successful. We finally met with several fertility doctors, of whom Dr. Silber was the most genuine and kind. We were at our wits end and desperate for answers and hope. Mini-IVF was an unknown option until that point. Dr. Silber patiently explained our choices without any pressure, allowing us to make an informed decision that made sense for us.
What we remember most was his immediate understanding of what Nicole was going through emotionally. He also had a very different interpretation of Nicole's blood work, noting what other doctors missed or dismissed. His theories about our infertility turned out to be entirely accurate.
The result of his empathy and expertise is our baby boy. We are happy to help him find more patients and to help patients find him. It is because of Dr. Silber that our dream of a family has been realized.
Eric & Nicole Post
St. Louis, MO
---
Dr. Silber and Staff,
We are so enthralled with our new addition that there just aren't enough hours in the day to enjoy him.
Our story starts in 2006 when Paul and I met at work. After we dated for a year and a half, we decided to get married, during our plans for our lives together we started discussing extending our family.
We decided to ask Dr. Silber to assist us in trying to conceive thru In-vitro. Our procedure was on May 8th, 2009 and the embryos were transferred on Mother's Day that year.
Jesse came into our lives on the 19th of January 2010. He came in his own time and at his own pace, and has since ran the house with the same fervor that brought him into the world. He has blended two distinct families and is adored by all 5 of his sibling, his aunts, uncles and cousins. We look forward to Dr. Silber assisting us in conceiving again in the near future.
Our Many Thanks,
Paul, Kari, David, Jessica, Trent, Nicole, Cordell and Jesse Pinkerton
Belleville, IL
---
Our Story
So much can change in a year. At this time last year, in 2010, my husband and I had been told "by a different clinic that" we had a less than 10% chance we had less than a ten percent chance of IVF success. We had already tried three fresh IVF cycles and one frozen cycle; one ending in miscarriage, and the other three with no success. We were given very little hope but still knew we needed a second opinion.
Through our online research we kept being led back to Dr. Silber's website. Acknowledging this as a sign, we made an appointment for a consultation. Within fifteen minutes into our consultation Dr. Silber told us that we had both been misdiagnosed. We were so thankful for and impressed with the level of Dr. Silber's expertise. He apologized for what we had been through and told us he had a plan that he thought could be successful.
Dr. Silber was definitely right about our success. He and Dr. Pineda transferred two embryos on St. Patrick's Day, March 17, 2010. Our two lucky charms! Exactly eight months later on November 17, our two beautiful girls were born at 37 weeks and 3 days weighing 5 lbs. 15 oz. each.
We cannot begin to thank Dr. Silber, Dr. Pineda, Karah, and the rest of the staff enough for everything they did to help bring our twin girls into the world. Our daughters are both truly miracles from God.
Kelley and Kristina Lace
Ozark, MO
---
Thank you Dr. Silber from Lagos, Nigeria
We got married in December 1998 and started trying for a baby right away without success. A friend of mine told me she read about a doctor in St. Louis by the name of Dr. Sherman Silber. But first I opted to go for IVF in London. Over the years I had several IVF attempts in London without success. So in 2004 I gave up.
Then I went to Dr. Silber in St. Louis, 9 embryos were frozen and Dr. Silber explained that my fibroid had grown tremendously and was pressing directly on my uterus. He felt the chances of an implantation taking place was thus lowered, and their freezing technique does no damage to the embryo. So he advised that Dr. DeRosa should take out the fibroid before transferring the frozen embryos.
I had the surgery and waited another couple of months for the frozen embryos to be transferred. I don't live in the US so you can imagine the stress of having to travel about 15 hours all the time.
When I got a call from Dr. Silber's office with Joan saying 'congratulations, Remi, you are pregnant' I just burst into tears. I have been waiting for someone to say that to me for over 11 years of trying to conceive. What can I say? It was a wonderful day. It was incredible to feel joy relief anxiety all at the same time.
Our son, Samuel, was delivered by Dr. DeRosa in July 2008, 3 months before my 40th birthday. I thank Dr. Silber for his dedication to putting smiles on faces of people like us. Not many IVF doctors are like Dr. Silber because his actions and inactions tell you he is not in this for the money. He treats every patient with the same caring attitude.
If you are reading this, my advice to you is perseverance. Don't give up, you can trust Dr. Silber and Dr. DeRosa.
We decided to try again as soon as possible and had two more of the frozen embryos transferred. And it worked again, for our second baby.
Thank you, Dr Silber!
The Odunsi's
Lagos, Nigeria
---
Dr. Silber and staff,
Since we met the Hunters in Brussels, December 1993, we have spent one weekend a year together. This picture was from our latest weekend in Indianapolis.
These five teens are all straight A student, all involved in the school bands and sports. We are so thankful to have and know them!
Sincerely,
David and Tracy Greenwell
Englewood, OH
Note from Dr. Silber:
This family is part of a group of families who helped me pioneer for the first time ICSI and IVF for couples in whom the husband had absolutely no sperm in the ejaculate, but for whom we retrieved sperm [technical video] (for the first time in medical history) from the husband's testis or epididymis to fertilize the wife's eggs. This project began far back in the mid-1980's, and these families were true patient pioneers. They are to be congratulated for being among the first to do this. Now, 25 years later, millions of otherwise sterile couples have had children because of the efforts of families like this.
---
Dear Dr. Silber,
It was lovely meeting with you in Belfast back in November. Sorry I am only getting around to e-mailing you the pictures now.
Thank you so much for taking care of us. It is great that I now have the pictures to show the boys when they are older and I can tell them all about the long story of how we eventually went to St. Louis for IVF and got the beautiful babies we had wanted for so long.
Tomorrow Stephen and I are going away on our first holiday together as a family with the babies and we are very excited. We are looking forward to going to America with Joshua and Logan. We feel that they might as well be American because, after all, we went all the way over there to have them and that is where they began life in St. Louis!
Best wishes,
Judith & Stephen Fullerton
Belfast, Ireland
Reply from Dr. Silber:
Dear Judith and Stephen,
Thanks so much for your kind letter, the beautiful pictures, and for keeping in touch. Many patients just forget about us once they have their babies, and I can understand that. But the whole reason I am in medical practice, as you well know, is the joy of hearing from people like you and seeing your joy. This is truly my only reason for working so hard to always continue to improve the medical treatments available for couples like you. You made my week when we bumped into each other in Ireland, and you made my day today with these wonderful pictures. YOU MAKE MY LIFE WITH YOUR HAPPINESS.
Dr. Sherman Silber
---
Dear Silber Team,
In 2003 we were a typical military family of four. With our daughters ages 11 and 5 we felt extremely blessed and for the most part, fulfilled. After 11 yrs in the military we decided it was time to move on to the civilian world. So with logic over shadowing the deep hidden desire for a bigger family we went ahead and had a vasectomy. The gloom of making such a big mistake and not ever being able to have more children really put a black cloud over her head.
Then one evening we caught a special on television about a gifted doctor performing special miracles for people like us. It gave us hope. So we contacted Dr. Silber's office after a couple weeks of debating the pros and cons for a vasectomy reversal, after all we didn't want to make another HUGE mistake.
So in the early summer of 2006 Dr. Silber performed his magic. We stopped trying so hard and decided to let things take their natural course. Within a month we were pregnant again!! On September 27th, 2008 my wife gave birth to a very healthy baby boy. Tanner was 7lbs 12oz and 21inches long and ready to take over the house. Our house finally had a happy atmosphere again, my wife felt fulfilled, we had a son to pass on the name, things couldn't be more perfect.
Then at the beginning of 2009, to our surprise, we were pregnant again. Then a few weeks later another surprise, TWINS!!! Then a few months later another surprise IDENTICAL GIRLS!!!! We wanted a big family and we got it. On 28 October 2009 our twin girls Jessica and Gracie Lynn were born at 5lbs 5oz each and 19 inches long. Now we are beyond fulfilled and are comfortable with saying our family is big enough.
Thank you Dr Silber and all your team members for giving us the chance to become ONE BIG HAPPY FAMILY!!
Branden, Angel, Danielle (17), Kailey (11), Tanner (14mths), Jessica (1mth), and Gracie Lynn (1mth)
Cedar Hill, MO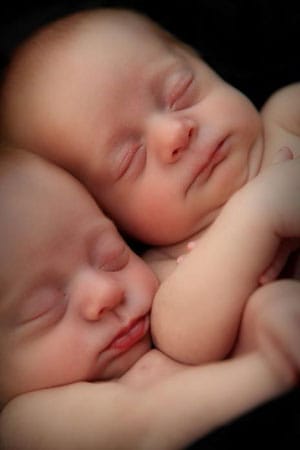 ---
Dear Dr. Silber and Staff,
I wanted to write and thank you for making Mother's Day 2010 one of the best days of my life. We celebrated with our amazing two-month-old twin baby girls and we wanted to extend our sincerest gratitude for helping us realize our dream to become parents.
We were both well over 40 and every doctor told us there was NO CHANCE. We soon found that local doctors were not willing to "work with us" because of my age (42 at the time we first sought help). We changed doctors 3 times and they all prescribed the same conventional treatments and tests. This went on for a whole year while I was just getting even older. We finally figured out these doctors were trying to waste enough time to force us into using donor eggs, rather than pursue a plan that would help us try to have our OWN children. We realized that using donor eggs is a viable option for some couples but had told each doctor from the beginning that was not what we wanted. I was devastated when I realized they had basically wasted 11 precious months of our time!
Then we saw Dr. Silber. I figured if Dr. Silber was that good at thinking outside of the box, he could help a healthy 43 year old become a mother. I "googled" and found out the office was only a four and a half hour drive away.
We believe that God works through people and we had a feeling we were in the right place when we noticed a "promise" displayed on the wall that said Dr. Silber would work to the best of the ability God had given him to help people. Dr. Silber explained to us the odds of conceiving because of my age, now 43, but he also had a plan to give us a chance. Things seemed to keep telling us we were on the right track.
July 6th we found out we were pregnant. July 21st we found out it was twins! WOW!! I was treated like any other "normal" high-risk pregnancy because of my "advanced maternal age" of 43 and carrying twins. I had a very healthy pregnancy and made it to 39 weeks with what my OB described as a pregnancy better than most of her moms carrying "singletons". We had beaten the odds.
Our very healthy and alert baby girls were born one week after my 44th birthday on March 8th! They continue to amaze us each day as we watch them grow and change. Brielle and Lillian bring such joy to our lives and we have not stopped smiling. We are so blessed.
We cannot thank you enough for your willingness to extend your expertise to successfully treat the infertility issues which older couples face.
Forever Grateful,
Dr. Dan & Lorelei Andedo
Rock Island, Illinois
---
My Story,
I am a leukemia survivor and blood stem cell transplant recipient. After treatment left me infertile, I heard about Dr. Silber and the ovarian transplants he was doing. It sounded like science fiction, but it wasn't!
I was so lucky to have an identical twin sister. We were adopted from Korea when we were 14 months old. We thought that we were fortunate to have been adopted together — little did we know how fortunate it was! Rachel was able to donate the blood stem cells as well as the ovary. Dr. Silber did the surgery.
I began to ovulate about 3-4 months after the transplant! It was truly amazing. The road to pregnancy was still not straightforward. I had two miscarriages which were heartbreaking and so when I got pregnant for the third time, it was difficult to believe it would actually work. But after the first ultrasound that showed a strong heartbeat, and the second that showed the fetus developing normally, we started to believe it was real.
I gave birth to my son, Miles, in November 2009. He is so precious. Both my husband and I are ecstatic. Dr. Silber provides new hope to women who once thought they would never be able to give birth.
If you can dream it, Google it, and maybe you'll find a Dr. Silber on the other end!
Nate, Anna, and Miles Heard
Washington, DC
and
Rachel Cederberg
Colorado Springs, CO
---
Dr. Silber,
I want to start by saying that Dr. Silber and all his staff are Amazing! My husband and I knew since the moment we met we wanted children. So after we were married for a year we started talking about starting our family. We figure maybe a month later we would be pregnant then nine months later we would have our baby and live happily ever after. Well after about 5 months we started to get worried and started having tests done to find the problem but we were only looking at me. After a year Robbie decided to get checked and we found out that he was born with a blockage of the vas deferens. A friend of mine told me about Dr. Silber, so I decided that we would go talk to him and get more information. I was scared to talk to Dr. Silber, because I was afraid that he was going to tell us that we would never have children.
Dr. Silber made us feel so comfortable, he listened to our feelings and never once lead us to believe that he could do something that he couldn't. Dr. Silber was very honest with us and reassured us that IVF would be the only way we would get pregnant. We loved that we never felt pressured into anything; we were given the facts and all the information and left to decide what we wanted.
Thanks to Dr. Silber and his staff we have beautiful 20 month old twins.
Thanks,
Robbie, Shanna, Cauy & Skylee Mondy
Old Monroe, MO
---
Dr. Silber,
After 3 years of infertility we learned the results of my husband's genetic test for azoospermia and we were devastated. We were told that our chance of conceiving was 0%. The doctor recommended we put our money towards adoption or donor sperm. The test discovered that my husband has a very rare genetic anomaly. He is a Turner's mosaic. This means that half of his cells are XO with no Y chromosome causing him to apparently make no sperm. We were in such disbelief that we decided to get a second opinion from the other reproductive group in town.
By this point it was late 2007 and we were beginning to think that children were just not in God's plan for us. In January 2008 after watching an episode of "Private Practice" I was searching on the internet for information on testicular sperm extraction (TESE) and if it would work for Tracy's anomaly. That is when I came across Dr. Silber's name. After more searching on the internet I decided to order his book, "How to Get Pregnant." His book gave my husband and I hope again. We decided that if anyone could make our dream of having a baby come true it was Dr. Silber and his team at the Infertility Center of St. Louis.
On February 4, 2008, we boarded a plane and went to meet Dr. Silber for a consult. He was intrigued by our case and certain he could help us achieve a pregnancy and have our miracle baby. With his expertise in infertility and his routine use of ICSI he gave us a good chance of finding sperm hiding in tiny numbers in the testicle. That to us was wonderful news. A year later we boarded another plane to St. Louis and began our 2 week period of monitoring and medication leading up to retrieval and implantation.
The office staff is wonderful. They are willing to help however necessary and are very knowledgeable. They called every night to let me know how much medicine to take and answer any questions.
My husband's testicular sperm extraction was successful and Dr. Silber was able to get enough sperm to fertilize all 13 eggs and even to freeze a few extra sperm for future use if necessary. Three days later I returned to St. Luke's to have two embryos implanted. Two weeks after the implantation we received a phone call letting us know that we were finally pregnant. We both cried in elation! On October 26, 2009, after many years of hope and devastation our miracle was born. Without Dr. Silber and his wonderful team we might have given up on our dream of having a family.
Tracy, Heather and Brayden
Omaha, Nebraska
---
Dr. Silber,
We are looking forward to a wonderful Christmas with our new family addition. Thank you for all you did for us. You will be a part of our family story forever.
God Bless,
Martin & Cathy Coco
St. Louis, MO
---
Dear Dr. Silber,
Thank you very much for helping us conceive our beautiful twin girls, Mallory and Mariah Kortan. They are a wonderful blessing given to us through your help and assistance. We really appreciate what you have done for us. Thanks so very much.
God Bless,
Scott & Tonia Kortan
Palco, KS
---
Dear Dr. Silber,
It has been a year this week that a doctor at the University of Chicago told us that we would never have children. As devastating as that news was, we didn't give up. And as luck would have it, God placed into our lives a doctor by the name of Sherman Silber. From the very first day we contacted your office, your staff gave us hope! Something we didn't have much of in the past.
The journey was long and emotional, but nothing worthwhile is ever easy. We are just very happy that the outcome is two wonderful children that we know in our hearts are truly miracles – special gifts from God.
Dr. Silber, I am not sure if you will ever know how much of an impact your work has on the people you serve. But I can tell you this, Gregg and I have not stopped smiling and thanking God since we found out that we were pregnant. You helped give us the best gifts we will ever receive – two children to love and call our own.
Please know that the work you do and the people you help will always be in our prayers. You are a remarkable doctor! Not a day goes by that we don't thank our lucky stars that our paths crossed and we were able to benefit from your tremendous knowledge.
We will continue to keep you updated on the progress of the Kaput twins. So far so good!
Sincerely,
Stephanie & Gregg Kaput
Plainfield, IL
UPDATE
The Kaput twins are almost 5 months old. It is amazing what they are able to do already. Each day they learn to do something new. Makenzie is a mover. I come out of the washroom and she rolled and scooted across the room and is under the couch – I guess she wants to play hide and seek. Tyler is our more studious one. He looks at each page of a book that I read to him and loves to stare at his flashcards.
Everywhere we go the twins seem to be a main attraction. People love to stop and look at them. Strangers can't believe how much Tyler looks like his daddy!
We would like to bring the twins down to visit and meet Dr. Silber, the man who made all of this possible!
Sincerely,
Stephanie & Gregg Kaput
Plainfield, IL
---
Dear Dr. Silber, Dr. DeRosa and staff,
We are writing to inform you of the birth of our fraternal twin sons, Abram David and Colton Willard. They are two beautiful, healthy, happy boys. They were born on August 8 at 37 weeks and 2 days via vaginal delivery without any complications and came home with us on the 10th. They are doing wonderful and are growing and changing every day. They already have their own individual personalities. Abram is laid back, happy and smiling all the time and Colton is a character who likes to cuddle and be held all the time. We feel so blessed to be writing this letter and we know it would not be possible without you. Everyone was such a pleasure to work with, especially Dena, our IVF consultant who we received the good news from! We cannot thank you all enough! you have helped make our dream come true of having a family and we will never forget you.
God Bless,
David & Emily Seaton
Collinsville, IL
---
Dr. Silber,
I just wanted to drop you a note thanking you for your part in the birth of our son – Hugh Benjamin Jay. He was born November 3rd and weighed 6 lbs. 13 oz. May God Bless you for all that you do. We are eternally grateful.
Love,
Ben & Chanda Ruff
Bay City, MI
---
Our Story
We were first introduced to Dr. Silber by a friend of Ashley's who was an employee of Dr. Silber's. From the very first appointment with Dr. Silber, we were very impressed with him and his staff. We were treated as a high priority with care and respect. Through a second round of IVF we conceived a beautiful little blessing known as Georgia Lou Powell. Without the Lord, Dr. Silber, and his amazing staff we would not have our beautiful baby girl.
Jarrod, Ashley, and Georgia Powell
Moscow Mills, MO
---
Our Story
My husband and I had three children and then decided to get a vasectomy. A few years later we were led by the Lord to leave our fertility in His hands. We decided to go to the best, Dr. Silber. We wanted expert care for my husband. After surgery Dr. Silber talked with me and even shared pictures. It was amazing. My husband opted out of seeing the pictures! Anyway, we conceived 6 mos after the surgery with our first reversal miracle and had a boy in April of 2007, one year and two months after the surgery. We conceived again 9 mos later and had another boy in Sept. 2008. We conceived again two years later and are due Sept. of 2010. I am 40 and my husband is 44 and we had these babies 7 years after the original vasectomy.
Dr. Silber's office staff is amazing too and I always felt I could call with questions and they celebrated with me every time I called to announce another pregnancy. I wouldn't hesitate to recommend this to anyone considering it. It was through the Lord and Dr. Silber's hands that we have three new lives into this world that wouldn't have been here without a reversal. Our lives are blessed.
William and Wendy K.
St. Louis, MO
---
Dear Dr. Silber,
My husband and I were married in 2000. In 2003, we decided we would like to try having children, however, Mark had undergone a vasectomy about 17 years prior. After researching reversal options on the internet, I happened upon Dr. Silber's office and was very impressed by his success rate, even with "old" vasectomies. In February 2004, Mark underwent a reversal… and endured a couple of weeks of teasing while he walked slightly bowlegged! Six months later we became pregnant! Our daughter was born healthy and happy, and has since been joined by a lively younger sister. We HIGHLY recommend Dr. Silber for his excellent work, professionalism and kindness. It was worth the travel and every penny.
With happy regards from Wisconsin,
Mark and Nancy Tritt
Amery, WI
---
Thanks to Dr. Silber, Dr. De Rosa and staff!
My name is Denise and my husband's name is Scot. Four years ago, we met in Rio de Janeiro, where I am from originally. Since my husband has cystic fibrosis, we knew it would be difficult for us to have any children naturally, if we were to get married. Despite this, we were married three and a half years ago. When it came the time to make a decision about having a baby, we struggled with the choice of trying IVF or adoption. Initially, our decision was the adoption route, but at the last minute, I had a change of heart. I told my husband I really thought we should try IVF or else we would never know if we would have been able to have a child of our own. At the time, I was 37 years old, adding to our difficulties. Once we committed to trying IVF, we met with Dr. Silber and his staff to begin the process. We endured the whole process of the medication regime, injection schedules, and the anxiety that accompanies it all.
When our retrieval date arrived, not only were we very nervous, but we ran into more problems. Dr. Silber discovered my husband had a congenital defect, making the sperm retrieval difficult. After some searching, he was able to retrieve two sperm from my husband. From me, they were able to retrieve only two eggs. After fertilization, we learned that we only had one viable embryo to implant. Despite our low odds, I never gave up hope.
My mom in Brazil would keep telling me that everything was going well and she knew for certain that I would get pregnant. I truly believed in what she told me. I can not describe the feeling of joy I had when I was told by Dena that I was pregnant. Even now, writing our story brings many, many tears to my eyes. It is a blessing to be able to look at our beautiful, healthy daughter Giovanna everyday and I encourage anyone to try because it is the most wonderful feeling one can have. We are so grateful to Dr. Silber and his staff for helping us start our family.
Denise, Scot and Giovanna Colgrove
Fenton, Missouri
---
Our Personal Story
Our family cannot say enough wonderful things about Dr. Silber and his entire team. We had struggled with infertility for several years before we saw Dr. Silber on the Discovery Channel television show "Baby Lab". We made the trip to St. Louis from Kansas to meet with Dr. Silber and discuss our options. We left our meeting feeling encouraged and hopeful. We quickly scheduled our IVF procedure. We couldn't wait to see if this would be the end of our journey with infertility.
We will never forget the JOY of that first positive pregnancy test! It seemed as if our family was now going to be complete and we couldn't imagine being any happier. Little did we know that three months into our pregnancy we would receive a phone call from an adoption agency asking if we would like to adopt a baby girl. After the shock subsided, we happily said "YES"! I was six months pregnant when our daughter Elizabeth Joy was born. Four months later, I delivered a healthy and beautiful baby girl we named Annie Joy.
We are blessed beyond measure to have TWO beautiful daughters. Thank you to Dr. Silber and his team for helping make our dreams come true!
Martin, Allison, Elizabeth, and Annie White
Wichita, Kansas
---
HIGHLY RECOMMEND!
In our 20s and early 30s, the last thought on our minds was infertility. Most doctors just told us to keep trying and be patient. After 2 years and a recommendation from family friends, we went to see Dr. Silber and his team. We could hardly believe that such a world renowned infertility doctor was right in our area! After sitting down with Dr. Silber, we finally felt like we had some answers. Although IVF was not our dream, he gave us hope. His team was so patient in explaining each aspect of the process.
In May of 2009 we gave birth to our first child, a son. He is more than we could have ever imagined. Our little family of 3 couldn't be happier. We cannot say thank you enough to Dr. Silber, Dr. DeRosa, and all of the staff. When we are ready for a bigger family, we will definitely be back to see you!
If you have to go through IVF, Dr. Silber is the doctor that you want to go to. He is world renowned. People come from all over to seek out his expertise. I can't thank him enough for all that he has done for my family.
Michael, Sarah, & Tyler Brokering
Granite City, Illinois
---
Our Story
Infertility used to be a word that was very unfamiliar to me. However, after months of trying to conceive with no success, I was told that my husband and I were considered "infertile." Little did I know we were about to embark on the longest and most emotional roller coaster of our lives. That is the best way I know how to describe the years of infertility treatment we went through.
Each and every day brought a new high hoping your prayers are finally going to be answered or a devastating low when your dreams are crushed. There were so many days I wanted to give up. I cried all the time, but I had to believe that one day it would all be worth it.
After years of medications, doctors appointments, shots, procedures, and surgeries, my wish finally came true I was pregnant thanks to the help of Dr. Silber. Then after a very complicated pregnancy full of more shots, medications, doctors visits, and hospitalizations our son was born. I couldn't believe he was finally here.
Our son is a miracle who would not be here without the help of Dr. Silber and the work that he does. At the time, I resented having to go through everything I did, but I realize now that it made me a better person and better parent. Each and every day is a gift and I do no take anything for granted.
Cathie and Roger
Imperial, MO
---
Here's our personal story…
Jason and I started trying to have a baby just few months after we were married in 2004. As the months went by and we weren't having any luck, I got sick. I developed a tumor on my left ovary and had to have surgery. Due to the nature of my tumor, surgeons removed my left ovary and my left fallopian tube. During the surgery, it was discovered that I had tumors growing on my right ovary. Luckily, the doctors only had to remove half of this ovary.
Once I healed, Jason and I started looking into our options for conceiving a child. I had only one half of one ovary. Jason had given a sperm sample to make sure everything was working on his end. Turns out, it wasn't. We saw countless urology specialists and it looked like there weren't any options for us that didn't involve getting extra help. After getting Dr. Silber's name from my gynecologist, we made the appointment to meet with him. He listened to our situation and recommended that we think about IVF. We took home the packet of information, read through it all, and watched the DVD to help us better understand the process. Since this was a huge financial endeavor, we weighed our options to go through with IVF or try adopting. We knew that we had to give it a try if it was possible to have our own child. I had few eggs and my husband had few sperm.
We began the process with a sense of excitement and the worry that it might not work. As part of Dr. Silber's requirements, Jason had to have a blood test for Dr. Silber to learn more about his make up. We were dealt another blow when we learned that Jason was a carrier for a genetic defect that could end my pregnancy if I did get pregnant. At this point, we didn't know what to do.
We decided to keep going. Dr. Silber recommended that we could have a special test done on the embryos to determine which ones would have the genetic defect.
On the day we were scheduled to have our transfer, we got all of the results from the genetic testing. Four of my eggs were no good. Seven of the embryos carried the genetic defect. That only left us with four embryos. Not as many as we had hoped, but it was something.
Dr. Silber came in and showed us the pictures of our four embryos. He even told us the gender of each one, three boys and one girl. We were still waiting on the results of one of the embryos, so Dr. Silber thought it would be best to put in two of the three boy ones.
Jason and I were so excited! We thought for sure that this was going to work. Later, we went back for my blood test to find out the good news. Jason and I were driving in the car, so we pulled off and listened to our results on speaker phone. "I'm so sorry. You're not pregnant." We were shocked. I immediately burst into tears.
We decided to try one more time over the summer. We only had one embryo left. So came the time for the blood test. This time we prepared ourselves for what was to be. I had my blood drawn and we went straight home. It was harder this time to keep busy. I made Jason call to find out our results this time. He had a huge smile on his face. He kept saying, "It worked? Are you sure?"
I couldn't stop smiling. I was so convinced I wasn't pregnant and to find out I really was realize my prayers had been answered.
Our son, Lachlan, was born March 13, 2008. We just celebrated his 2nd birthday. Every day Jason and I look at him and are so grateful that he is here with us. He is truly a miracle. We owe thanks to God, Dr. Silber, and his staff for all that has been given us.
Lachlan is especially a miracle to us because I had to undergo a hysterectomy in June of 2009. He is our joy and our blessing.
Jason, Beth, and Lachlan K.
Ballwin, Missouri
---
Our Story
We struggled with infertility for eight years, with countless tests, procedures, and doctors. At a time when we'd just about given up, Dr. Silber and the Infertility Center of St. Louis gave us more than hope — they gave us a family. We knew we were working with the right team from the beginning. Dr. Silber and his staff are fully committed to achieving the best possible outcome for every patient, and that is evident in even the little things. Dr. Silber and Dr. DeRosa worked so well together during procedures and consultations, and made us feel both comfortable and confident… no small feat after our previous disappointments.
Augusten (AJ) was born October 9th, 2008, to two very thankful parents. Eighteen quick months later, we look back at our journey and know that every hurdle was worthwhile. AJ is a gift, a miracle of modern science, and a joy every single day! He wouldn't be here without Dr. Silber's expertise, and we can never fully articulate how much we appreciate his work for families dealing with infertility. We will be forever grateful for the dedication, innovation, and integrity of Dr. Silber, Dr. DeRosa, and the staff at the Infertility Center of St. Louis.
Scott and Elizabeth
St. Louis, MO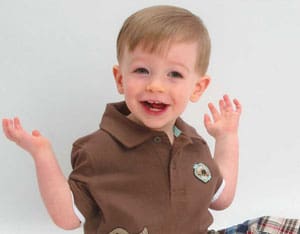 ---
Dr. Silber and Staff,
We are excited to send you the announcement of our daughter, Thea Rose. She was born October 20, 2009 and perfect in every way.
Our vasectomy reversal was done October 7, 2008. This was our second reversal attempt. It proved to be a difficult surgery requiring double VE connection. We found out we were pregnant only three months after the surgery. We were thrilled and a bit shocked to find out we were pregnant so soon after surgery.
Thank you so much for helping us complete our family. It would never have been possible without your talent and skill. We are grateful to you for making our dream a reality.
Our deepest gratitude,
Jim and Ami Lis
Lockport, NY
---
Dr. Silber,
On October 6th, Sophia Grace Manganelli was born. She weighed 8lbs. 11oz. and was 20 1/2 in. and is perfectly healthy. This would not have been possible without the great fortune we had in finding you. We just wanted to thank you for helping us bring Sophia into our lives. Thank you again to you and your staff.
Sincerely,
Chuck & Tori Manganelli
St. Peter's, MO
---
Dear Dr. Silber,
We wanted to send you a picture of the baby that you helped us conceive. I had the vasectomy reversal procedure done on September 25, 2008. Evan Michael was born on May 3, 2010. He is a very happy and healthy boy. Thanks you for all that you have done to assist us in making our dreams come true. We couldn't be happier.
With much thanks,
Mark & Alyssa
Chatham, IL
---
Dr. Silber,
Thank you so much for giving me a second chance by performing a very successful tubal reversal. You performed my reversal in March of '09 and by July I was pregnant. She is our little miracle.
Thank you!
Nick and Marge Jennings
St. Louis, MO
---
DR. SILBER IS AWESOME!!!!!!!
Dr. Silber and his staff are absolutely wonderful. They give patients 110%. They gave us hope were there was none for such a long time and without the work that he does we would not have our precious miracle. God Bless Dr. Silber and everyone in his office for the work they do!
Michael & Gigi Earl
Salem, OH
---
Our Story
My husband and I write our story in hopes to give any persons with infertility the courage and energy to keep fighting for their dreams of having children! Please don't give up! We were told by a doctor at one point that we would never be able to have children of our own. We were given the advice to check out adoption or even sperm donors. How devastating.
Thank God we didn't give up on having our own children for long. I happened to Google "infertility" so that I could become more educated and I found Dr. Silber's website. We were apprehensive but excited that maybe, just maybe, we weren't at a dead end! I called for paperwork and we sent our doctor reports in. Immediately Dr. Silber wrote saying that we have a very high chance of getting pregnant!! We now have a gorgeous 3 month old baby girl, Anabelle.
Dr. Silber and staff are truly amazing people with huge hearts! Thank you for all of your dedication and love!
So very thankful,
The Vander May's
Chadron, NE
---
Our Story
It was a year ago this month that we had the frozen embryo transfer that successfully blessed us with our fraternal twin daughters in December 2010.
We began our journey with Dr. Silber in January 2010 after dealing with unexplained infertility and undergoing 7 failed IUI attempts and a miscarriage treated elsewhere. We both wanted to grow our family and give our children siblings to grow up with. After a consultation with Dr. Silber he confirmed that we would be good candidates for mini-IVF. We wanted to delay this process for about 6 months after that initial consultation, but once we were ready, so was Dr. Silber's team.
We are so grateful to Dr. Silber, Dr. Pineda and all of their staff for the excellent treatment we received during the entire process. They made a difficult and emotional time easier to handle with their care, concern and professionalism. Whenever I had a question, big or small, I could call and was always made to feel like my question mattered and was important. I would recommend them to anyone experiencing infertility.
How do you thank someone for helping you achieve one of the biggest life dreams one can have… being parents now for the second time. Words cannot express this gratitude. But the smiles on our children's faces are a constant reminder of the wonderful people at Dr. Silber's clinic that helped make our dream a reality.
Michael & Stacey Starck
Wildwood, MO
---
Dear Dr. Silber and staff,
You performed a vasectomy reversal on Dwaine 2-17-05 and Ethan was born 8-13-08. It took us a while but here he is! We could not be more happy and quite frankly, we had given up hope on having a child of our own and started an adoption in China. We were so blessed to have Ethan. We thank you from the bottom of our hearts for what you have done for us. To us, Ethan is nothing short of a miracle. He is a happy and healthy one year old now and keeping us very busy. Thank you again for what you have done for us, without you and God, Ethan would not be here. We thank you.
Kelley & Dwaine Gelnar
Columbia, MO
---
Dearest Dr. Silber,
Hope all is well! I'm enclosing pictures of Gracie for you to add to your collection. She just turned 3. She is everything we wanted and then some. She is very smart for her age. She just started preschool this fall. She is also speaking some Spanish. She carries on conversations like a 5 or 6 year old. She is always very curious, which also gets her in trouble occasionally.
Thank you so much for everything you've done. You couldn't have went into a better career that you're in. You have the utmost compassion for what you do and that makes all the difference in success.
My fertility journey is finished. I pray for all the other longing couples! Thank you for helping them.
Danielle & Richard Schroer
Clay City, IN
---
Hello Dr. Silber,
Randy and I were married when I was just 18 and at that time I did not care that he had had a vasectomy. It was actually a relief. When I hit 30, however, my biological clock started ticking and as I got older its sound was growing louder to the point that I could not ignore it anymore. Being in Italy, we contacted a local hospital to find out what our options were. We were naive and very hopeful, so we got on the list and waited for a year and a half to do our first ICSI. Because of the vasectomy, at the hospital they took some samples from my husband's testicles and froze some semen. The first time we did the ICSI (January 2004) the fertilized oocytes stopped multiplying after 6/8 hours; the second time (September 2004) we had 3 beautiful embryos but a negative pregnancy test; the third time (July 2005) we had 2 poor quality embryos.
At this point I realized that this was the wrong way to pursue this. I felt that the doctors and geneticists were not experienced enough and I had had enough hormones and drugs. At the US military base I had gotten from the library Dr. Silber's book, "How to Get Pregnant" and, since I was home resting after the last unsuccessful embryo transfer, I began to read it. When I got to the vasectomy section and how it did not matter how long the vasectomy reversal had been done (in my husband's case 27 years and since everybody that we had contacted were talking about antibodies produced against a man's semen) I was elated. I read this part to my husband, who (to my shock) actually said he was willing to have a reversal. I write "to my shock" because his vasectomy had been very painful (no anesthesia had been used during the procedure) and it had always been a sore subject to him before.
Anyway, when he said he was willing I contacted Dr. Silber's office around 20th July of 2005 and the following 7th September the procedure was done in St. Louis.
We had no way of knowing what Dr. Silber would find during the operation, but despite the fact that the vasectomy had been sloppy, the reversal (thanks to Dr. Silber's enormous ability as a microsurgeon) was a complete success. We followed Dr. Silber's recommendations (rest, sitz baths, jock strap) and even with a flight from St. Louis back to Italy, Randy (by now 53) healed very well. In February I had unusual bleeding between two periods and contacted my gynecologist (with whom we had done the ICSI procedures) and after a few blood tests, I (by now 37) was told that my ovaries were getting old and that my uterus was inflamed. I got a series of medicines to take as soon as I finished my following period and that was all we needed, because on May 10 we got a positive pregnancy test. Our daughter Francesca was born on Christmas day 2006: perfectly healthy at 6 lbs 8 oz and 20 inches long. It was great to have been able to have a baby "the old fashioned way" and always felt blessed. When Francesca was 2 years old I thought that we could have a second baby. We had a few setbacks, so we could not "get to it" right away, but in summer of 2009 we started. I've always followed Dr. Silber's recommendations: having sex every other day with the woman on her back and stay there for 30 minutes. It took us 3 months and in the beginning of October we got another positive pregnancy test. June 7 2010 (I was 41 and my husband 58) our daughter Emma was born: another perfectly healthy baby, although chunkier (8 lbs 10 oz and 21 inches long). What a perfect outcome.
Thank you, Dr. Silber, for everything and we wish you and your team a Happy New Year,
Randy and Giovanna (Jo) Stevens
Italy
---
Dear Dr. Silber,
Many thanks to you and your staff for the part you took in the birth of our wonderful son. God performs many miracles often times through the hands of others. You have our sincerest gratitude and appreciation. God bless you always.
The McIntyres,
Billy, Pamela & Jesse
Steeleville, IL
---
Father and Son Story
Comment from Dr. Silber:
Todd, left, is a young man who was born after I did a vasectomy reversal on his father, right, 31 years ago. 31 years later, at age 31 I also did a vasectomy reversal on his son, Todd. Both were successful, both on father and on son 31 years later. So maybe we will be seeing his son 31 years from now.
Follow up note from Dr. Silber:
Todd is overjoyed because his wife became pregnant 3 months after his vasectomy reversal and emphasized that he would not exist if Dr. Silber hadn't operated on his father 30 years before, and his baby would not exist now if Dr. Silber hadn't operated on him. 3 genreations of Silber children!
Todd Damron
Honolulu, HI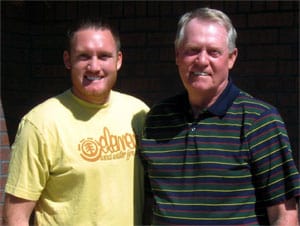 ---
Dear Dr. Silber,
We just wanted to take this opportunity to write you and thank you for performing a successful vasectomy reversal on Craig in December 2008. Because of you, we were blessed with our little man, our Trip Taten, October 9, 2010.
If you recall, we each had two daughters of our own and were very happy to be blessed with a healthy child, but due to all the recent drama with our four daughters, we're ecstatic that we were blessed with a son.
Craig was especially happy to have a son so that he can have a golf buddy. Now we have "yours, mine and ours" and you would think that would complete our family, yet we have loved having a little one again and wonder if he needs to have a little brother or sister. So it can be said that we are thinking about adding to our wonderful blended family again.
Craig & Heather Turner
Jefferson City, MO
---
Dear Dr. Silber and staff,
Words cannot express our gratitude and complete happiness. This is thanks to you and your amazing work.
My husband had a vasectomy in 1993 after the birth of his daughter. We met about 8 years later and started dating. I, being 8 years younger than my husband, wanted to have kids. We decided to get married after being together for 4 years. My husband and I saved to money to have a vasectomy reversal. After months of planning and saving, he had the reversal November 30, 2006. The reversal was sucessful, proven by sperm analysis. I started a low dose of Clomid and two months later, we were pregnant. I gave birth to a healthy, beautiful baby girl July 11, 2008, Brenna lynn.
Two years later, we decided to try for another baby. We thought giving Brenna a baby brother or sister would be the perfect way to complete our family. I, once again, had to take Clomid due to my irregular ovulation. But in 1 cycle of Clomid, I was pregnant again. We were blessed with a beautiful baby boy, Bryson Michael on May 6, 2011.
The gift you have given Patrick and I, with the help of God, has been truely the best blessing we could have ever hoped for. We want to thank you again, from the bottom of our hearts, for the wonderful job you did to make our family whole. Our kids are perfect, and healthy in every way.
Back in 2005 when we wanted a baby so bad, I sat right here at this computer reading other testimonials just like mine. I wanted to be able to look back and share a happy story like the ones I read. And I am proud to say that we can finally share our story.
Thank you Dr Silber and your wonderful staff. We are truely complete.
Patrick, Brandy, Brenna, and Bryson Cummines
Brighton, IL
---
Our Testimonial
I have four children and as they grew up and became teenagers I decided to try to have just one more, at a later age in life.
We tried for three years and no luck. I decided to go to my OBGYN and get a full work up. I figured I would just have to do maybe a few things but it would be OK. Well that was not the case. My OBGYN told me I was very healthy but, I would never be able to become pregnant. I was heartbroken and I did not know what my next step was, if I even had a next step. That was when I read about Dr. Sherman Silber!
I had done a lot of research on IVF doctors as well as the procedure. I was unsure if it would work for me or not but, I was willing to give it a shot. I called Dr. Silber's office and with in three days I had a packet with all the information as well as DVDs to get me started. After looking it over with my husband and talking about every aspect of the procedure and financial obligations, we decided we could take the next step and make a appointment.
We made an appointment for a consultation with Dr. Silber and from the moment we came in to that office, we had a wonderful experience. His staff was wonderful and they treated us like family! They genuinely cared about your struggle to conceive and were grateful that we had chosen them to help us. We met with Dr. Silber personally in his office and my husband and I where very impressed with him. Dr. Silber was very thorough and covered all information regarding me and what IVF entailed. We where given plenty of time to make a decision and we never felt like it was something pushed on us from their office. They treated it just as it was: a big decision! We discussed it and after long review we decided to go forward.
I was given a personal nurse who I would call a dear friend to work with. I felt that if I did not get pregnant it would not be because of lack of great physicians or care but because God had already decided that for me. After all, another child would have been a bonus seeing that I had four healthy children already.
We called the office nervously 2 weeks after the embryo transfer for our test results and where given the wonderful news that we were pregnant. We were so nervous to hear the second follow up test was again positive, and they thought it was even possible we might be carrying more than one because my hormones where so high. We followed up four weeks later with Dr. De Rosa and found out we indeed were pregnant and with healthy twins.
We are so truly grateful to Dr. Silber and Dr. De Rosa as well as their staff because they gave us love, kindness and the blessing of two beautiful twin boys. My husband and I would highly recommend Dr. Silber to anyone with conceiving issues. If you are trying to become pregnant and you are losing hope, I suggest you start with Dr. Silber.
Thank you Dr. Silber, we are very grateful!
Michelle and Larry Fredman
Marion, IL
---
Dr. Silber and all who work with him,
Words cannot express our gratitude for all you have done for us and all you do for those experiencing fertility problems. Thank you so much and God bless all of you. Thank you for your excellent care, your patience, your support, giving us hope and being God's hands in working to give our boys life. After I lost my ovary due to ovarian torsion, we soon realized we would not be able to have children without medical treatment. We began treatment closer to home, and the people at that clinic were very nice, but we felt hopeless and lost after every dissappointing visit. Way too early in the process we were told we may need to look into donor eggs and to start thinking about who we may ask. We were emotionally drained and the continued treatments that carried low chances of success were wearing on us. Our outlook changed after our first visit with your clinic. Although no guarantees were given – we had hope. You also provided us with a plan and gave us hope that if Plan A didn't work, you would stick with us and we would explore other options. Your process was structured and detailed so we knew what to expect and what to do next. You were always available for questions. After reciving your outstanding care, and thanks to the care of our local OB/GYN, God blessed us with our first son as a result of IVF and later a second son after a frozen embryo transfer.
We thank you so much.
Matt and Kari Propst
Jefferson City, MO
---
Dr. Silber,
I had a tubal reversal by you in 2002 and had a little girl Brooke in Sept 2003, and another little girl Autumn in Dec 2005. In 2009 I became pregnant again with another beautiful baby girl and Maya was born in Sept of 2010. We call her our little gift from God.
Thank you.
Felicia & Steven Lower
DeSoto, MO
---
Our Miracle,
My name is Jennifer and my husband's name is Keith. When we first met, Keith told me that he had Cystic Fibrosis and had received a double lung transplant 5 years earlier. I knew that that we would never have any children of our own, at least the natural way. I started researching our options and found Dr. Silber's website. I knew that with the sperm retrieval, IVF and ICSI, we would be able to have hope of having our own child.
We decided to get married in March of 2010. When we sent our invitations to the wedding, we included a note about our decision to try and have a child of our own. We asked that everyone give money as a wedding present. The response was amazing! We were given over $15,000 from family and friends. My parents and Keith's Dad, along with all of our savings made up the rest that we needed.
In July of 2010 we started our journey. After many, many shots, a sperm retrieval, egg retrieval and embryo implant, we found out that we were pregnant! We were so excited because our dream had come true. And then after 9 short months and 24 hours of hard labor, on April 9th 2011, LouEllen Gale Harvel was born. She weighed 6 pounds 6 ounces and was 20 1/2 inches long. She was the most beautiful baby we had ever seen. She looked just like her Dad, which I am thankful for.
I can't imagine what Keith felt when he looked at his daughter for the very first time. After so many years of thinking that having a child of his own was impossible, he was given a miracle. Keith has had a hard life due to his Cystic Fibrosis and lung transplant. He tells me everyday that he is so thankful to have me and LouEllen in his life. He says we make life worth living!
During our journey we never gave up hope. We want to thank: God, Dr. Silber, Dr. Pineda, their staff, everyone that gave us money, and all of the prayers. If it weren't for all of these people, LouEllen wouldn't be here today. She is our miracle!
LouEllen is now 6 months old. She just cut two teeth, rolls all over the place and laughs all the time. It is amazing at how fast she is changing. She brings up so much joy and turns any bad day into a good day.
We hope to go through one more round of IVF with Dr. Silber this winter. We pray that we are able to give LouEllen a little brother or sister.
With many thanks,
Keith, Jennifer and LouEllen Harvel
Clay City, IL
---
Dear Dr. Silber and Staff,
Well, somehow almost two years have passed since we last saw Dr. Silber, and I wanted to take some time to say a most sincere THANK YOU for helping my husband and I to fulfill our commitment to God and one another in becoming parents! Our fertility road at first seemed rather hopeless when, after a year and a half of trying to get pregnant, we discovered that the hernia surgery my husband had at the age of sixteen left him with absolutely no sperm in his ejactulate. The first couple of fertility clinics we came in contact with just didn't seem to have the right fit for us. My husband's mother, a registered nurse, suggested to us that we look up Dr. Silber. Are we ever glad we did!
The compassion and professionalism we found at the Infertility Center of St. Louis was unmatched by any of our previous experiences. We were overjoyed when Dr. Silber told us about ICSI, and within a few months we were well on our way to starting our family. After an unsuccessful first embryo transfer, I was nervous about the second. I was impressed once again on the day of transfer number two, when Dr. Silber came in and explained to me that, due to the unique curvature of my pelvis, he felt a surgical embryo transfer was the answer. I appreciated his attention to detail and felt that he was really in tune to our individual situation.
On May 24th, 2010 at 35 weeks we welcomed Jack and Abby into the world, each a little over 5 pounds and 18 inches. They have been a complete joy to our lives and I am so thrilled to be able to stay home with them; watching them grow and change into the happy, curious, and twin-scheming masterminds they have become in their 16 months. Our story foes not end there! We will be back to see you all again when we are ready to expend the Augenstein household. (However, on the precipice of the terrible twos two times two… it won't be for a little while longer!)
A couple's journey with infertility is a life interrupted. When the course you had set for your lives becomes suddenly and forever changed, it can seem like a great inconvenience. Without firm belief in the goodness and care of God, we can spend years mad at ourselves, others, or even Him because we did not get to the accomplish what we originally set out to do. However, it is during these times when we should look to God most, in graceful surrender, and allow Him to lead us down the path he has predetermined for us. Again, I am so very thankful that our "life interrupted" led us to you. Matthew 12:28-29: "Come to me, all you weary and burdened, and I will give you rest. Take my yoke upon you and learn from me, for I am gentle and humble in heart, and you will find rest for your souls."
Thanks,
Jennifer & Guy Augenstein
St. Louis, MO
---
Dear Dr. Silber and Staff,
Sorry it took so long to send you an update, as you can imagine it's been very busy around here! We were so excited for the birth of the twins, and could't believe we got two beautiful girls! (I thought for sure we'd have boys!)
Jack has been wonderful with them and has adjusted so well. His birthday is right around the corner, I can't believe he's almost 3!
We feel so blessed to have such a happy and healthy family. We could not ask for more. you guys have given us the greatest gift and we cherish them everyday!
Thank you again and hoping all is well in St. Louis!
Jess, Cecil, Jack, Sam & Emmy
East China, MI
---
Dear Dr. Silber,
In 2004 we began the process of trying to conceive. We knew the road would be hard and the odds were stacked against us as at the age of thirty three I was struggling with a very low ovarian reserve.
In 2005 we sought out the help of another fertility clinic and our first IVF cycle was both painful and devastating, the result, just one egg. By knowing that the chances of our conceiving were less that 10% I was ready to stop after the first attempt. Through my husbands urging we decided to try one more time.
Through many tears and a lot of prayer an image came to my mind of a book by Dr. Sherman Silber that I had read a decade earlier on how to get pregnant, of course I immediately did an internet search and realized his clinic was under two hours from where we lived, I called that very moment.
Dr. Silber's staff was amazing and guided us through the steps we needed prior to our appointment time with Dr. Silber. That very appointment changed our lives forever! Dr. Silber gave us hope in a time when I personally had little. I realized at that moment we were exactly where God intended us to be and that if anyone could help us Dr. Silber could. Needless to say during our treatment with Dr. Silber not only did my follicle count increase from nine to fifteen, Dr. Silber and Dr. DeRosa were able to retrieve ten eggs. Joyfully in September of 2006 we delivered two very healthy babies, William Richard and Isabel Lynne Sapp!
We can never thank you enough for helping us conceive our children! May the Lord continue to bless your work and may the families that seek you out know they are in great hands!
Blessings in Christ,
Scott and Stacey Sapp
Keokuk, IA
---
Dear Dr. Silber, Dr. DeRosa, and Staff
We would like to start by saying thank you for helping us overcome our infertility. We recently welcomed our son Jaxson. He is a happy, healthy baby boy and the greatest gift that we could ever hope for!
My husband and I have been together since we were sophomores in high school. We were married at age 21 and began trying to start a family a few years after that. We soon realized that getting pregnant was going to be difficult. After years of trying and countless fertility treatments at other clinics we found Dr. Silber's website.
We were very nervous about going to a new specialist and not sure we were prepared to go through the emotional toll of fertility treatments again. However, after our first consultation with Dr. Silber we knew that we had to try one more time to have a child of our own.
Dr. Silber is easy to talk to and always has a reason behind the decisions he makes regarding patient care. He is confident and has the experience to back up all of his recommendations. His staff is amazing: they were always courteous and friendly. Our IVF nurse was Karah and she was fantastic! She answered every question we had (there were a lot of them), was so patient, and always there for us. Dr. DeRosa is also a wonderful physician. He is very experienced, confident and capable of putting even the most nervous patient at ease. My husband and I liked him so much we decided to continue seeing him throughout our pregnancy, even though there were many OB-GYN choices much closer to home.
We have several friends/family members that are also struggling with infertility and I highly recommend to all of them that they go talk to Dr. Silber. He made our dream of becoming parents come true, so there are no words capable of conveying our gratitude to him and his staff, but thank you from the bottom of our hearts!
Sincerely,
Travis, Sara and Jaxson Hinthorne
Bethalto, IL
---
Dear Dr. Silber,
Thanks for giving us the chance to share our story. Rain is truly a gift from God – and we know He led us to Dr. Silber! Here is our testimonial:
After our 9-year-old daughter died in 2007, my husband and I were facing a long, childless life. He had a vasectomy when she was 4 because he didn't want more children. Later that year, we decided to research vasectomy reversal. Time and time again, we came across Dr. Silber's name, so we contacted the Infertility Center of St. Louis.
Jason's procedure was booked, and six months later, completed on April 9, 2008. The surgery went well, but because of damage done as a result of the vasectomy, only one vas was repaired – that was discouraging, but we didn't give up hope.
After nearly a year of negative test results, we received word on Feb.9, 2009, on what would've been our daughter's 11th birthday, Jason had a positive sperm count – it wasn't much, but it was something. In July of 2009, our second child was conceived, and on March 15, 2010, Rain Kathryn Robertson came into the world, a beautiful second chance.
We are so grateful that the path God set us on led straight through St. Louis to Dr. Silber. His expertise, care, and compassion brought us our baby girl, and we are forever blessed!
Jason and Taunya Robertson (with Baby Rain)
Sumner, IA
---
Dear Dr. Silber,
Hello My name is Kara and I have two beautiful almost 4 year old girls. My journey to get my girls started in 2005 when I was diagnosed with Ovarian cancer. My husband and I where searching for a doctor who was performing the pre-genetic diagnostic testing. I am a carrier of Fragile X Syndrome.
We found Dr. Silber had a consultation scheduled and then had to cancel due to the Ovarian cancer Diagnosis. I was determined to beat the cancer and have my girls. So in 2007 I called the office and made my first appointment, not knowing for sure whether my remaining ovary even still worked or not. I went through a series of ultrasounds and even a CT scan to make sure everything was okay. By November of 2007 I was giving myself hormone injections and praying it would work. By December 26th I had a positive pregnancy test. Oh my that was exciting! We even had 2 babies on ultrasound. On August 20th I had a c-section and delivered my 2 beautiful girls.
Thanks to Dr. Silber and Dr. Pineda. They made my dream come true.
Thomas and Kara Marti
Highland, IL
---
Dear Dr. Silber,
We had quite the ride, trying to conceive, but feel extremely lucky it only took us 2 cycles to achieve our daughter Natalie, who is now 13 1/2 years old.
I remember Dr. Silber's words… "With Persistance, yet Patience, you will conceive." So as one dream was ending for us, another one was already beginning… Rob and I jumped right back into IVF, and decided to try a second cycle. We did need the assistance of ICSI, something none of the other doctors at the time even offered. My husband's sperm count was very low and the motility as well was extremely low, but Dr. Silber assured us that he was having success with some of these new procedures! I remember him being such a confident man, and that's what attracted us to him. He never beat around the bush, or gave us false hope….He just was very professional and honost. Again, I go back to his words above! It stuck with us and thank God, because we now have our daughter Natalie. She's a little part of both of us, which we "NEVER" thought we'd have.
So please let him know we think of him often, and will forever be grateful!
Rob and Debbie Needy
Fenton, MO
---
Dear Dr. Silber,
Every specialist we went to told us there wasn't any way my husband's vasectomy could be reversed. It had been too many years, and it wasn't at all possible! In our desperation we were told about Dr. Silber. We hopped on a plane and flew from Chattanooga, Tn. to St. Louis, Mo. – the rest is history! Dr. Silber did for us what every other physician said was not possible!
I hope you've been receiving the Christmas pictures since our sons' birth, I've sent one every Christmas since 1995! Not proud am I?!!! Just a little info. We are a musical family (God given talent) for generations back! Our get together's for birthdays Christmas etc… consist of playing music. Caleb was no exception. He started playing at 2 yrs old.
We do Gospel television world wide and concerts 150 dates a year every weekend. Caleb was raised on the road in a customized bus traveling with myself and my mother and father, who is an ordained minister. Caleb holds the #1 seat in the marching band for drums at his school. He also plays piano, bass, and guitar! He is in the top 5% of his class. (Not Mom speaking.) We get calls continually complementing us on his manners and what a wonderful guy he is! HE IS AWESOME! Not ashamed to tell you.
George, Donna, and Caleb Coleman
Cleveland, TN
---
Dear Dr. Silber,
I've attached a few pictures of Jillian. She is 18 and gearing up for college. We'll be sending her off to Elon University in North Carolina – so far away, I'm not ready for this!!! But it was her first choice, her "reach school," and when she was accepted there was no turning her down.
Mark and I remain eternally grateful to Dr. Silber for his skill in enabling Jilli to come into this world. We know she is destined to accomplish great things!
Mark & Cathleen Kronemer
St. Louis, MO
---
Hello Dr. Silber,
We waited 7 years for Don's reversal to successfully bring us our Gabriel, and then nine months later, we were expecting Sarah! I gave birth to Gabe at the age of 40! Sarah came at age 41! My OB/GYN tried to get me and Don to "do something" since I was getting older. We stood by God's promise and our children came into this world through God's handiwork and imparting His gift of wisdom and knowledge to Dr. Silber.
Yes, we did wait for the reversal to produce sperm, and for whatever reason, it took longer than we expected, 2 years. Please post our story so that those "waiting" will be encouraged, and patient.
Gabe is now 3 1/2 and is our sweet, sensitive little man. We know his gentle spirit will be used by God one day.
Sarah is now 2 and full of life and generosity. She shares everything and is very active. God's hand is upon her as well and we look forward to seeing His plan in her life. We bet it won't be a "sit down" mission!
Parenting is the most challenging position I have ever held but every day I wake up and wonder what would I do without my precious angels. Thanks to God and to Dr. Silber's skilled hands and willing heart to serve!
Don and Kim Parvin
Rossville, GA
---
Miracle Babies
We have a miracle story to share about our path to having two beautiful angels.
We were trying to have a baby for around an year and nothing happened. Our OB/GYN didn't ask us to perform any initial testing when we decided on having a family. So after seeing no results, we were asked to do some tests and we were shocked to find that my husband had no sperm, and I too poor ovulation.
We happened to see the book – How to Get Pregnant by Dr. Silber from the library and found a ray of hope. The book itself gave us tremendous information regarding the options we have that that itself helped us to have a faith in Dr. Silber. We called this office and luckily got the first appointment within a week.
We took the latest test results with us. Meeting with Dr. Silber was very pleasant and exciting and he assured that we can have a successful IVF. We decided to go ahead with the dates for the IVF on the same day.
We were assigned with a co-coordinator who was really helpful in getting us thorough the journey answering our numerous questions promptly and patiently. The entire communication with Dr. Silber's office was very prompt and helpful. We took the training on how to inject the IVF medications from hospital as well.
On the day of egg retrieval, my husband was scheduled for MESA procedure to retrieve sperm and Dr. Silber himself performed the operation. Thankfully it was very successful and then it was my turn for egg retrieval. Dr. Pineda assisted Dr. Silber with every procedure. There were only 3 eggs that fertilized correctly because of my low egg count and my husband's low amount of sperm. Since it was a risky case, Dr. Silber himself performed that for us.
We were filled with blissful happiness on the day we heard the positive news from Dr. Silber that I was pregnant. The joy was compounded a zillion times when we learned from our OB/GYN that we were having identical twins.
We are very thankful for the great service from each and every one from Dr. Silber's office. And we are thankful to the Universe for blessing us twice with two beautiful angels!
Thank you so much!
Dr. Silber, you are the best!
Kumar, Remya, Swaathi and Shruthi
---
Dear Dr. Silber,
My name is Ashley Snider, my husband Mike and I had tried unsuccessfully to conceive for 4 1/2 years. After 1 year of trying on our own we sought out the help of a different infertility specialist at a different facility. I underwent one surgery to address my endometriosis. We also did four IUI's, one fresh IVF cycle, & one frozen IVF cycle, which was not useful.
It was time for a second opinion, and so we sought out Dr. Silber. Actually my husband's cousin & his wife were going to the same doctor that we started with. They switched to Dr. Silber and highly recommended that we give him a try.
After meeting with Dr. Silber, my husband & I both really liked him. He was VERY knowledgeable and kind. You could also tell that he had the clinical background to back up the explanations that he gave us and didn't just go by rote definitions. We knew he was going to be a great fit for us. It was like night and day with the confidence we felt between him and our first doctor.
---
Dr. DeRosa was the OB/GYN that worked with me from the beginning and Mindy was my nurse at Dr. Silber's office. Dr. Silber, Dr. De Rosa, and Mindy (and all of the other staff in their office as well) were always VERY considerate, compassionate, and caring with each and EVERY encounter we had with them, whether it was meeting with them in person, talking to them on the phone, or conversing through email. They always kept us informed.
We started the process for mini-IVF in May. My frozen embryos were implanted a few months later. I just gave birth a few months ago to our beautiful baby girl Mikenley Sue. She brings us ALL the JOY in the world!!! We are FOREVER GRATEFUL to Dr. Silber and Dr. De Rosa for helping our dreams finally come true!!
Our only regret is that we didn't find Dr. Silber sooner and before we wasted our time and money at the first facility.
Thank you Thank you Thank you to Dr. Silber, Dr. De Rosa, and the staff at both places!!!
I currently have friends and family that are also struggling to conceive and I hands down recommend Dr. Silber to all of them. I just can't say enough nice things about him.
Thank you again from the bottom of our hearts!!
Ashley & Mike Snider (& Mikenley too)
Illinois
---
Dear Dr. Silber,
Before we came to Dr. Silber, we had had several failed attempts with IUI, and one failed IVF cycle. After the last failed IVF cycle at a different center, we were told that we would not have any chance of having our own child unless we had donor eggs and donor sperms. I refused to take this option (somehow I just knew that we could still have a chance). But, being drained from emotional pain and physical pain (lot of tests done at this center), I decided to put on hold our plan of seeking any further treatments.
A year after this painful experience, my husband told me that he would like us to try again. I told him that I would pray to God and I would let him know my decision. I started my research for a different doctor online. I found Dr. Silbers website. I read many of his articles, his background and achievements. I also read many patients testimonials from the website.
When I read the testimonies, I knew they were true but my thought was these were miracles and they might not happen to me. But, one thing that helped me to decide to see Dr. Silber was his method of mini IVF cycles. I thought this treatment would be more appropriate for me (I was 40 years old with only one ovary).
My husband and I met with Dr. Silber and he explained the procedures to us. Everything was simpler than I thought (no painful test, just ultrasounds). We signed up immediately and walked out his office with full of hope.
After 3 mini IVF cycles, we had four good embryos stored. We decided to go forward with the transfer. I had two embryos transferred and one did take.
We welcomed our miracle baby girl (Evelyn) on March 27 of this year. Our daughter is truly a miracle which only by Gods grace that we can get.
We are so thankful for the dedication of Dr. Silber and his staffs to help people like us to have our dream of being parents to come true.
Amy & Alan Nguyen
Fenton, Missouri
---
Dr. Silber and Dr. DeRosa give HOPE!
My husband and I tried to become pregnant for approximately 2 years and we were becoming physically and emotionally let down. After several unsuccessful attempts of artificial insemination we were losing HOPE. We were then referred to Dr. Silber and the Infertility Center of St. Louis.
After meeting with Dr. Silber and his team, we gained a sense of HOPE which was almost lost. Dr. Silber and his staff were extremely personable and answered all our questions. We then decided to fulfill our dreams of having a baby and entered the wonderful world of IVF.
During the IVF process, my body did not respond exactly to the shots as HOPED, however Dr. Silber reinforced our confidence and gave us the words that we needed.
Several weeks later we were given the exciting news that we were pregnant. Charli Renee is now 7 months old. We thank God often for our chance to become parents and for the medical skills of Dr. Silber and Dr. DeRosa.
We just wanted to share our story and to let those know who may be having trouble getting pregnant, that there is HOPE and that it comes in the form of Dr. Silber and his staff.
Thank You,
Matt, Tristan & Charli Hermsmeier
Quincy, Illinois
---
Dear Dr. Silber,
We just wanted to send you a birth announcement of our beautiful son! We also wanted to thank you, your team and assisting physician Dr. De Rosa for helping us bring him into the world! Without Doctors like you and caring staff members like the ones you employ, he wouldn't be here.
There aren't enough thank yous in the world, or words in the universe to express how grateful my family is to you. We are truly grateful for the work you do!
Again, thank you so much for helping us reach the goal of having a family!
Sincerely,
Heather & Gary Boyer
Richwoods, Missouri
---
Dear Dr. Silber,
As I sit holding my daughter, I try to think of the right words to say "thank you" to Dr. Silber and his team for bringing this amazing little person into my life. There are no words strong enough to show my appreciation.
My journey to have another child began about 2 years ago after being unable to conceive naturally. I was 39 years old and facing the possibility of having to comes to terms that I might be unable to have another child of my own. I was determined to do all that I could to make my dream a reality. Based upon the research that I had done, I chose to seek the help of Dr. Silber and his team.
As a result of my age, I made the decision after my first egg retrieval to again go through this process two additional times in hopes of increasing the number of frozen embryos. My thought process was that at this age, the sooner my eggs were retrieved, the better the quality, and the higher the likelihood of having another child. This would be costly but in my mind, of this meant working a few extra years of my life, it was well worth it. I had in my mind that if I had no success after the level of effort, then perhaps it was not meant to be. I truly could be at peace with myself knowing that I had done as much as I could on my end to make this dream come true.
It was the week of Mother's Day 2011 that I found out that I was pregnant. Then in January 2012, at the age of 41, my beautiful daughter was born. The joy that she has brought into our lives cannot be put into words. I look forward to one day sharing my story with her. For her to know and understand what I went through to bring her into this world will create a special bond forever.
To women in search of this dream, I highly recommend that you consult with Dr. Silber and his team. The level of skill that they bring to this procedure is remarkable.
To Dr. Silber and his team, the words "thank you" will never be enough for what you have given me. You truly have made my life whole. It is because of you that my heart feels complete.
Tammy
Illinois
---
Dear Dr. Silber,
We can't begin to thank Dr. Silber and all of his staff for everything that they have done for us! From the moment that my husband went to his hometown doctor and was told that his vasectomy reversal was not going to work and I looked up Dr. Silber on the internet, our lives changed DRASTICALLY… for the better! Dr. Silber helped my husband have a successful vasectomy reversal which resulted in freezeing sperm at the time this as well. We were very happy that this was done because shortly thereafter, we found out that between my fertility issues and my husbands issues we needed to use that frozen sperm and the ICSI procedure to conceive. Thankfully Dr. Silber was able to assist us with this and we gave birth to a healthy baby boy 7 years ago, named Logan. WHAT A BLESSING!
We have told Logan about this process from the start. He has always wanted to meet Dr. Silber so when we were able to see him this September, it was certainly a dream come true for our family! Thank you again Dr. Silber! You truly mean the world to us!
The Paulsruds
Jody, Sarah & Logan
Eau Claire, Wisconsin
---
From Dr. Silber:
This is remarkable story I have to share with you! The photo you see is me visiting with the result of my work from way back. This handsome young man is the son of a patient of mine from 28 years ago! His father, Nau Hin Soon, had flown to St. Louis from Kuala Lumpur, Malaysia 29 years ago to have treatment which resulted in this fine young man, who is now a successful lawyer in Los Angeles.
I recently had the pleasure of meeting with this successful law school graduate in California where we were able to set up a conference call with his proud parents, who were still in Malaysia. Continuing the generations. What a good feeling all over for me to see the fruits of my work in a fine young man grown up and full of the sparkle of life.
Patrick Soon
Los Angeles, California & Malaysia
---
Our Story
Shortly after Chris and I met, he told me he had a condition called Kallman Syndrome, where the man can make no sperm, and he was not able to have children. At least that is what he had been told for years and years. I thought there had to be a way with so many advances in that area.
A couple years after we married, we started looking into our options. Before we found out about Dr. Silber, we heard of another physician. We saw them and were told, Sorry, no deal. We were devastated and started to look into adoption.
A woman I worked for at the time knew our situation and had known someone who went to Dr. Silber. She showed me the website and Chris and I were impressed and set up a consultation. We were even more impressed and actually hopeful for once.
It took us some time to get the process started but once we were ready, we called and said it was Go Time. From the first person you speak to in the office all the way to Dr. Silber and Dr. De Rosa, everyone was so incredibly reassuring, professional, and kind.
On Aug 28, 2011, our procedures started and on Sept 12, 2011, we found out Dr. Silber and Dr. De Rosa are definitely miracle workers and we got the great news we were pregnant. We were beyond thrilled as well as our families! From that day on, our lives have been a whirlwind.
The pregnancy went very smoothly until the last few weeks when I had some blood pressure issues, but all went well and on May 16, 2012, Connor Robert graced us with his presence and has been an absolute blessing ever since. We will forever be grateful for Dr. Silber and his team. They gave us the best gift anyone could ask for.
Thank you from the bottom of our hearts,
Chris and Kim Blase
Missouri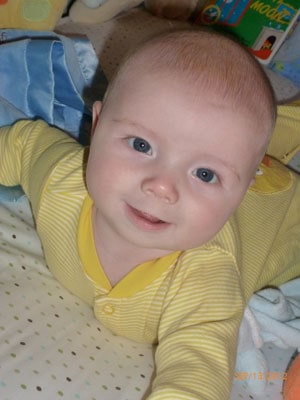 ---
Our Story
I wanted to first thank Dr. Silber and staff for bringing our beauitful baby girl into this world.
My husband and I tried for years to try for a baby, and was having no hope. Until one day my sister told me about Dr. Silber, she said how good he is, and how the staff is friendly, and caring. She went to him and had great success. So I called Dr. Silber's office, they gave me all the information I needed. Everyone was there for us, answering all our questions, and they were great at returning our phone calls right away.
We went through the mini-IVF, which was much less expensive than conventional IVF, but yet gives the very same high success, and transfered 2 embryos, and 9 months later our baby girl, Gabriella Grace, was born. 8 lbs, 9 ounches. She is a miracle of God.
Thank you again to Dr. Silber and his staff,
Michelle and Lawrence Quinones
Sioux Falls, SD
---
Dear Dr. Silber, Dr. DeRosa, and your wonderful staff,
My husband and I would like to take this opportunity to thank you for everything you do to help couples achieve their dream of becoming parents, and to share our story. We hope it might encourage someone else.
My husband and I are high school sweethearts who wanted to start our family not long after we were married. I don't know why, but I had a feeling that it would be hard for us. After about a year of trying to get pregnant I went to my OB doctor to see if something was wrong. It was determined that I may have a condition called polycystic ovarian syndrome which causes me not to ovulate regularly. Then it was my husband's turn to get checked out. We were shocked to find out that his sperm count was only ONE, especially when a normal count is like twenty million! My husband was a normal healthy 32 year old man with no history of childhood illness or injuries. We visited several urologists who told us that he is young and suggested he take some expensive vitamins and wait to see if they help. Then we went to a local reproductive endocrinologist who told us that if I wanted to become pregnant I would need a sperm donor because my husband had nothing to work with. This was hard to hear and very discouraging.
Instead of continuing to "try" for a baby we just started praying and saving money. I wasn't sure what we were going to do but I knew it would be expensive! We looked into foster parenting, adoption, sperm donors and IVF. Meanwhile everyone I knew, worked with, and was related to was pregnant! I was happy for them, but at the same time sad for myself. I had days where I wondered if I'd ever be a mom, but deep down I always had this peace that God gave me that we would eventually be parents.
Then one summer day I was flipping through the channels and saw this show on the Discovery Health channel about IVF. It was Dr. Silber and his staff in St. Louis. The couples had fertility issues similar to ours. That show gave me so much hope! I researched Dr. Silber and when I saw that he specialized in male infertility and difficult IVF cases I knew he was the doctor for us.
We flew up to St. Louis the following December for a consultation with Dr. Silber. We were afraid that he might say that we were not good candidates for IVF, but instead he said we were great candidates for it! He was so warm and sweet and encouraging. You could really tell that he cared. We left feeling so excited and couldn't wait to come back! So the next summer we started the process.
The staff is so patient and kind. We live in Florida and they were so good about explaining things over the phone and making sure we understood all our meds, blood work, and ultrasounds that needed to be done before coming back up to St. Louis for the egg retrieval. After the procedure we had six embryos that made it to the three day gestation and freezing process.
December 13, 2011 we had two embryos implanted in my uterus. We had the best Christmas of our lives being able to tell our entire family that after eight years of marriage, and six years of trying, God had blessed us and we were FINALLY going to have a baby!!!! On August 16, 2012 our dreams came true and our little miracle baby was born!
We just celebrated our first Christmas with our baby girl Madison and we are still pinching ourselves! We are so grateful to God for leading us to Dr. Silber and for this beautiful, healthy baby girl! We are now planning our next trip to give Madison a brother or sister! There are no words to tell you just how thankful we are for all of you and what you mean to our family!
Love,
Chris and Casey Click (and baby Madison)
Palm Bay, FL
---
Dr. Silber,
We were married October 3, 2009 and always dreamed of settling down and having kids right away but never thought it would be so difficult. After a year of trying, we decided to meet with my OB/GYN, Dr. Sarah Shores. She performed various tests and recommended that I try Clomid. Unfortunately, three rounds of Clomid later we were still unsuccessful so Dr. Shores recommended we set up a consult with Dr. Michael De Rosa, another doctor within the practice.
Our consult went fantastic, he could not have been nicer and explained everything in a way that made complete sense. He told us that we would have a higher success rate going with IVF over an IUI. Being such a big decision of course my husband and I would have to spend some time thinking about it. After considering everything working against us, we decided to go with the most effective method, IVF.
That's when we met Dr. Sherman Silber and his amazing staff. Our first consult was very exciting yet nerve wracking at the same time. We waited 3 years for this and were desperate to finally get some good news. Dr. Silber insured us that everything was going to be just fine and this is our best chance of having kids. Dr. Silber and his staff were extremely helpful and gently walked us through the entire process. I talked to one member of his staff, Dena, almost everyday through phone or email. She made this process way too easy for us and I knew she was with us for the long haul.
When the time came for the implantation, we were unbelievably happy and giddy with excitement. Don't get me wrong, we were also very nervous; I mean, who wouldn't be? Dr. Silber transferred two fertilized embryos on October 6, 2011. We then had to wait 2 excruciatingly long weeks until we knew whether the implantation had been successful. I was extremely nervous when I finally went in for my blood work but I knew that everything was going to be alright. Later Dena called and said, "Oh yes! You're pregnant!" We still can't put into words how excited that phone call made us. We were going to be parents.
Nine months later, Mathew James Carlton was born on June 30, 2012. Not surprising, he was a week late! Mathew weighed in at 8 lbs. 3 oz. and over 24 inches tall! Until that day, we had only dreamed of being able to hold our own baby, in our own hands. My thanks go out to Dr. Silber and his staff. They were the ones that made this happen. We are so grateful for everything that they've done. Having finally reached the conclusion of this process, we are already looking towards round two! Just keep in mind that if anyone else is going through infertility issues, there is hope with Dr. Silber and his amazing staff.
Dennis & Julie Carlton
Florissant, MO
---
Dr Silber and Staff,
Chris and I cannot thank you enough. We always felt that we were cared for and were given the best care possible!
It was one year ago today that we had our transfer of two embryos. The journey to get to that point was long and at times challenging
but it couldn't have gone any smoother. I tell everyone that your office is like a well running machine. We as patients don't
get to see everything behind the scenes but always felt Dr Silber was making the best decisions for us.
Caleb Franklin Ronich was born via C-section Sept 30th, 2012. He weighed 7 lbs 15 oz and was 20 1/2 inches long. Scored 9's on his apgar tests!
He was and still is a very healthy and beautiful baby boy. He is in the 85-95 % in height and 50-75% in weight. He is reaching some his milestones
a month ahead of schedule! It's exciting to see his little mind at work!
He is one very very loved little man with two very devoted parents.
We look forward to visiting St Louis, someday in the future, to thank Dr Silber and Dr Derosa in person and to show them one of their
finest!
Sincerely,
Nichole and Chris Ronich
New Hope, MN
---
Dear Dr. Silber, Dr. Pineda, and staff,
We cannot express in words how thankful we are to have the opportunity to meet and work with you. We thank God for the two blessings you have helped us make with the Mini IVF procedure.
The road was long and hard (PCOS and unexplained infertility) but choosing you both before all other doctors made this process a lot easier. There are no guarantees when it comes to infertility but you and your staff comforted and helped us each step of the way. If I had to do it over again, I wouldn't change a thing. I'd still pray to God that if He wanted us to have a baby we would and if not that it would not happen. I'd try to relax and let your staff and nurses worry for me like they said they would. I'd know that I'm not the only one dealing with infertility and hormones and that other couples are struggling also. I'd write this letter even if we were not successful because you both are amazing people with a wonderful gift who do great things.
Thank you for the chance to have our little ones and God Bless.
Aaron & Amanda Cooper
St. Louis, MO
---
Dr. Silber,
We would like to thank Dr. Silber and his staff for offering us the ultimate gift of HOPE through our daughter. My husband and I had been married for 16 years when our second son was born in November 2007. We felt our family was perfectly complete, so I had tubal ligation following delivery. Life was nearly perfect and we were incredibly blessed. Tragically, in August 2009, our 20 month old son died and we were devastated. Life as we once knew it was shattered beyond comprehension.
One night while doing an online search regarding international adoption, an internet ad popped up regarding vasectomy reversal. It was then that it occurred to me that it might be possible to reverse tubal ligation. The thought had never entered my mind before. I assumed it was permanent. We had been very fortunate to easily conceive both of our sons. If only I didn't have tubal ligation, we would be able to conceive another child.
I continued to research the possibility and learned of Dr. Silber. I consulted both my OB-GYN and family physician who both confirmed that it was indeed a safe procedure with relatively high success rate. Both felt I would be an ideal candidate. I spoke with Dr. Silber's staff to learn more, and in December 2009 my husband and I decided to pursue this opportunity. In my heart, I felt that God had granted us another opportunity for a child. Although we already had two boys, He placed it on my heart that the surgery would indeed be a success and we would conceive a daughter named Hope.
With tears, prayers, and faith, I had tubal ligation reversal on January 30, 2010 at age 38. We were incredibly nervous and anxious, yet certain that He would guide Dr. Silber through a successful procedure. We knew all of the statistics and felt that He would grant us this gift. I remember Dr. Silber saying that the surgery was a textbook example and everything went well. We were incredibly fortunate to conceive during my first cycle in March 2010. We received confirmation that I was pregnant on Good Friday and announced the news to our family on Easter Sunday. As we faced a sad Easter Sunday – our first without our precious Jared – we were able to share the amazing news that a new child would be joining our family in December.
Nothing is ever simple in our household, and yet again we faced tragedy. I developed HELLP Syndrome and Hope Canaan Birk was born September 16, 2010. At only 27 weeks 7 day gestation, she weighed 2 lb. 4 oz. She arrived one day before my 39th birthday and was truly the most incredible gift ever. She was in NICU for 7 weeks and came home weighing 4 lb. 1 oz.
I believe we were most likely the quickest success story for Dr. Silber and this procedure. Surgery on January 30 and delivery on September 16! We are so thankful to Dr. Silber and his staff for the excellent care we received. Their kindness and genuine concern for our future were inspiring during a challenging time. It has truly been a roller-coaster, but fortunately the ride has a happy ending. Hope is now 2 years old and absolutely perfect. Thank you for granting us this miracle!
Teresa Birk
Jackson, MO
---
Dear Dr. Silber and Dr. De Rosa,
We are beyond grateful for your gift of hope, support, and fertility.
On April 23rd, 2012 we welcomed our second daughter Macy Lou. After having our first daughter through IVF, in our home state, we hoped to have a second child but we struggled with if we should do the IVF process all over again. After one conversation with Dr. De Rosa, we knew we'd be traveling to St. Louis for one more attempt.
Through all the ups and downs of this detailed process we believed through all your support, knowledge, and confidence that we would be blessed again. On our daughters second birthday we found out we'd be becoming a family of 4!!
Thank you for utilizing your skills and talent to create life. We're forever grateful.
The Barnett's,
Oklahoma City, OK
---
HAVING THE PATIENCE AND FAITH TO BELIEVE THAT THE REWARD IS WELL WORTH THE WAIT
My husband and I tried for nearly three years to make our dreams of having a family come true. We always knew that we wanted to have children and I couldn't picture my future without them. We tried on our own for about 8 months. From the beginning we knew we were going to have struggles, but we never could have imagined how tough they would be. My periods have never been regular and there were many months that would pass when I wouldn't even have a period. I always attributed my irregularity to sports and working out. After becoming frustrated and hopeless, we decided to go to an infertility specialist in the area.
My husband and I had many tests done to check his sperm and my eggs. Although I didn't ovulate on my own, there were no other problems to be found. I started taking FSH and having my follicles monitored to determine when they were mature. Everything in me worked perfectly fine with the help of FSH. We tried numerous IUI attempts, but all of them failed. There was no explained reason, but they just kept failing.
One of the hardest parts for me to handle emotionally was that after a failed IUI attempt, we would have to take a month off of trying and I had to take birth control because I always had cysts left in my ovaries. After the month off of trying and "shutting down" my system, we would try again. We completed 9 IUI attempts in all.
At this point I was completely devastated and unable to comprehend why things weren't working out for our family. I had many sleepless nights and teary days when I wondered if my dreams of holding our baby would ever become a reality. During one of those sleepless nights I spent time on the computer trying to figure out where we would go for IVF. My husband and I both knew that was our next step. Dr. Silber is a good family friend of one of my best friends and I heard of his success through her. I looked on his website and wrote an email stating my frustrations with all of our failed attempts and asked questions to whomever this email was going to. At the time, I had no idea. The next morning I received an email back from Molly. I don't really remember what it said, but I remember feeling hope and reassurance that this was the next step we were supposed to take. I later spoke with Molly on the phone and set up a time to come in and meet with Dr. Silber
At our consultation we were paired with Dena, our IVF coordinator. She was more than supportive during this whole process. My husband and I reserved our spot for the April IVF cycle. We had so many emotions running through us – excited, scared, hopeful, worried, etc.
On April 15th our embryos were created. Two of them were transferred back into me three days later and a few weeks after that I received the best email of my life. I had asked Dena to send me an email when she received the results because I'm not able to answer my phone at work. When I opened the email the subject said "CONGRATULATIONS" and the first line read "You are PREGNANT!!" For a moment my world stopped and I knew my life would never be the same.
41 weeks later (Yes, he was a little late in coming out!) my husband and I welcome our little miracle, Liam, into the world. THANK YOU to Dr. Silber, Dr. De Rosa, and all of the staff (especially Dena and Molly) for making our dreams come true!
Rich and Lisa Wierzba,
St. Louis, MO
---
About Dr. Silber and staff:
I was told a long time ago that getting pregnant would be difficult, due to my irregularity, and thus began my fear of not being able to have children. Over 4 long years, 3 unsuccessful IUI's, 2 pregnancy losses, and pools of tears, we finally turned to Dr. Silber. During the first consultation/ultrasound, I was finally diagnosed with Polycystic Ovary Syndrome (PCOS.). We were told, "Dr. Silber loves his PCOS patients, lots of eggs!" Let me tell you, the difference in tone that this statement had from previous doctors; and the relief that came from finally understanding what was going on with my body. Dr. Silber and Dr. DeRosa told us "of course you can have a healthy pregnancy." They just seemed so certain, I was skeptical – but optimistic. Clearly, this was a pretty difficult task at that time and state of mind.
Before starting IVF, we got rid of the many troublesome "old" eggs, and began the tricky business of making the right amount of new ones while balancing meds and PCOS. When the procedure didn't work after the first implantation, I was pleased with a different approach for the second try. It meant Dr. Silber had put thought into my situation, and understood hope was delicate. For the second try, we did a more drastic ZIFT procedure to implant the leftover frozen embryos – and finally success! All the medical procedures at St. Luke's hospital were flawless (Dr. Silber's patients are treated as priority.) The entire staff was always responsive and understanding. I owe much of my good experience to our coordinator, Dena.
I cannot describe to people who haven't experienced infertility; the despair that comes with wanting a baby (needing really) yet not being able to have one, the emotional whiplash from continued pregnancy losses, and then the sheer paranoia of EVERYTHING once pregnant. But, if you are reading this, I know I'm preaching to the choir. I can truthfully say to you, I would go through it all again (and more) without a second thought, if it meant I could have my son. We are head over heels in love with our little guy, David, and we cannot put into words the amount of gratitude that we have for Dr. Silber, Dr. DeRosa and staff. I truly realize I am one of the lucky ones, and promise to never take this for granted.
You'll enjoy this comment from my mom to David, upon seeing him for the first time, "you mean you were in the freezer!" I guess he was. Thankfully he's here now.
Laura and Dan Emge (and now David),
St. Charles, MO
---
Our Story
Even as a teenager, I had the feeling I would not have an easy time of becoming a parent. When my husband and I first started trying to have a family, not long after we were married, we were disappointed when it did not seem to happen quickly. Those around us assured us that, it just takes time and to relax.
Well, almost 8 years down the road, fertility drugs and several IUI's later, we thought that we were never going to be parents. After our last failed IUI, I started looking for other solutions to our dilemma. I came across Dr. Silber's site and was so happy to read all of the positive comments. So that day, my husband and I set up a consult with Dr. Silber.
The day of the consult, I was so nervous that Dr. Silber would say there was nothing he could do and that our dream of becoming parents would never come true. But, he was so reassuring and walked us through exactly the plan for our case. He was the first person to give us the hope and belief that we would become parents.
Dr. Silber and his staff made the IVF so easy for us, even at 200 miles from the clinic. We were able to start the process at home and traveled to St. Louis for a week and a half for the procedure itself. Dr. Silber and Dr. DeRosa were so calm and reassuring for both my husband and I through the whole process. The staff was also wonderful to answer all questions that we had throughout the procedure. After the procedure, we traveled back home and waited the two long weeks before testing.
Late April, early May of 2012 we found out that we were indeed going to be parents and we were ecstatic! The staff was just as excited for us and continued to check in on us, long after we were with a normal OB. On January 1st, 2013, our beautiful daughter, Braelyn Abigail Hensley entered the world and changed ours forever! We thank Dr. Silber, Dr. DeRosa and all their wonderful staff for the love, support and encouragement throughout the process. We hope to add to our family with our remaining embryos very soon!
The Hensleys
---
Our Story:
John and I met in 2003 and married in 2006. When we married having children was not immediately on our minds as we were still young. However, when we decided to start trying we knew we would have difficulty as my husband was being treated for a kidney disease and was on very strong medication that halted the production of his sperm. Luckily we were quickly introduced to Dr. Silber and we felt very confident that he would make our dreams come true. We became pregnant on our first round of IVF but unfortunately miscarried around 12 weeks. We tried again as soon as we were able but it didn't work, so we tried again.
At this time I remember being extremely sad and frustrated but something Dr. Silber said to me on the day of my implantation stuck with me. He said you must be persistent, if you are patient and persistent you WILL get the outcome that you want! So many questions and thoughts were running through our minds but I remembered that Dr. Silber said we needed to be persistent. When we were ready, we tried again, this time knowing we had a guardian angel watching over us every step we take. Our daughter, Julianna was born in December 2012. She is the absolute joy of our lives and we can't thank Dr. Silber and his entire staff (especially Dena) for all of the support. As I type this, we are looking to start this process once again to grow our family!!!
John & Johanna Mayes
Kirkwood MO
---
Our Story:
Even with all the excitement and joy of the pregnancy and birth of our Daughter, Arya Abigail, (born on August 2, 2013) after Dr. Silber performed our Tubal Reversal Surgery in July 2012, one thing we knew for sure…we will be forever grateful to Dr. Silber, Jan Bischoff and the staff at St. Luke's Hospital for this beautiful and truly amazing experience!! We will never forget you and we will make sure our beautiful daughter, Arya Abigail, also knows who to credit for the chance to be so loved in this world. We love you all and we will sing your praises for always!!
~Christine Underwood & Don Stimac~
---
Our Story:
Rich and I would like to extend a personal thank you to Dr. Silber, Dr. DeRosa and Mindy Stone for helping to make our dream of having a baby come true!
A friend of ours first told us about Dr. Silber in 2012 as we began to explore IVF options. We were optimistic when we heard about his minimal stimulation IVF method designed to help older women get pregnant. At the time, I was 41 years old. We opted for three egg retrievals and were fortunate enough to generate 10 embryos. In November 2012, we had four of them implanted and as a result, we got our baby girl, Justine Rae Wooten on August 17, 2013! We couldn't be more thrilled and feel truly blessed. It's early to say with a six week old baby at home, but who knows — we might try for a little brother or sister for Justine with our six left over frozen embryos, which are hanging out over at St. Luke's Hospital! If you are thinking specifically about minimal stimulation IVF, Dr. Silber and Dr. DeRosa are so knowledgeable and on the cutting edge of this incredible science. And Mindy Stone was fantastic as out coordinator — so compassionate, organized, accessible and kind.
Julie Follman, Rich Wooten and Justine Rae Wooten
St. Louis, MO
---
Our Story:
I owe Dr. Silber my whole world! His expertise and skill played a major part in my son Liam's existence. As a single woman of 33 who initially visited Dr. Silber to just evaluate my fertility and who soon realized I had to act quickly to take advantage of the few remaining eggs I had left, I experienced nothing but support and encouragement from Dr. Silber and his office staff. The curse of infertility is a painful, difficult and heartbreaking situation to deal with and one that is unfortunately far too common. When time and money are of the essence and one's impatience must be dealt with, it is comforting to know that you can trust and rely on your doctor's years of experience and know-how to see you through. Through three mini IVF cycles, two successful retrievals, one miscarriage and one wondrous birth I can attest that miracles do happen! Miracles that get a little assistance from an amazing and genius doctor in St. Louis!
Colleen and Liam
St. Louis, MO
---
Our Story
I had a vasectomy in 1995. I was later divorced and remarried a wonderful woman, and we wanted to try raising another child. Dr. Silber and staff were very encouraging and kind while we reviewed the different options. Ultimately, Dr. Silber completed a vasectomy reversal on December 7, 2010. Our little bundle of joy, Sophia, was born on September 12, 2013.
I Thank you, Dr. Silber and staff, for explaining all the possibilities and procedures, performing the delicate operation and follow-up care and for making this wonderful part of life possible again.
The attached picture is of Sophia while riding in the carrier/car seat in a wagon in our rural yard at chore time last week. Looks like her dad's driving scares her a bit. Ha ha. What a joy!
Leif and Sharron Holliday
Holton, Kansas
---
Our Story
We are one of those odd couples…. My husband and I have a 24 year age difference. When we got married we planned to make a family. My husband has 3 children from a previous marriage, but had long since had a vasectomy. The vasectomy surgery had been close to 20 years ago. After vasectomy reversal, my husband's sperm count was inadequate for us to become pregnant, so we saw Dr. Silber and scheduled IVF.
We returned to Dr. Silber's office and received information on In Vitro Fertilization. We were placed on the 'waiting list' and told we would be contacted in the next few months. Much to our surprise we got a call about a month later that there was an opening, and we jumped at the opportunity!
Taking the medication injections was hard for me as I am terrified of needles. But, my husband's calming voice telling me how wonderful our baby would be helped me through these moments of discomfort.
January finally came, and along with it our target dates for egg retrieval and embryo placement. I was terrified about the procedures, but the nurses and staff were wonderful about explaining things and they put me at ease.
After the embryo placement, we were overjoyed when we learned we were now expecting our first child!
Our beautiful baby boy was born in October, 2013 at St. Luke's Hospital.
We owe our ' Miracle Baby' to Dr. Silber, his office, our case worker Nicole (thank you for all you have done!), and Dr. Silber's wonderful and helpful staff at St. Luke's Hospital.
Words cannot describe how happy we are! Thank you so much for helping us become parents!
See you all in a year for the next one! :)
Dorana and John W.
St. Clair, MO
---
Our Story
Thanks to Dr. Silber and his outstanding staff at the Infertility Center of St. Louis, our beautiful and healthy baby girl was born on July 23, 2013!
Our infertility journey began the day we were told we would never be able to have our own biological child without the help of In Vitro Fertilization. My husband was born without his Vas Deferens tube, leading to a 0% chance that we could ever conceive naturally. He would need a surgery to remove his sperm. We endured 2 failed IVF attempts at another infertility clinic. We were exhausted, devastated and running out of hope. This is when we found Dr. Silber.
After our first meeting with Dr. Silber, we knew that he would make our dream of having our own biological child come true. He was knowledgeable and honest. He gave us statistics and percentages. He also educated us on the specifics of my husband's surgery and as it turned out, he does the surgery completely different than the previous infertility clinic. His approach to male infertility is completely different than any other clinic in St. Louis. We know this is the reason our IVF attempt with Dr. Silber was successful!
From the start of IVF to the last step, we had a great experience and were able to remain positive and hopeful! The staff was extremely patient and helpful. The process was individualized for our needs and we weren't just a "number." There are no words to express our gratitude to Dr. Silber and his staff. We look forward to returning for baby #2 in the future!
Doug and Shelly Doell
Wentzville, MO
Dear Dr. Silber and Staff,
In March of 2011, after having completed months of research on the subject of infertility, my wife and I contacted your office with eager anticipation of getting through our infertility issues.  Our story is one of correcting infertility issues developed by me having gone through a vasectomy.
We were quickly put at ease by the professionalism and knowledge you and your staff had of our situation.  We appreciated the fact that you gave us your assessment and recommendations and then gave us time to evaluate those recommendations.  Your staff was very helpful in setting up all the arrangements from accommodations to finances.
---
Our Story
Dear Dr. Silber and Staff,
In March of 2011, after having completed months of research on the subject of infertility, my wife and I contacted your office with eager anticipation of getting through our infertility issues.  Our story is one of correcting infertility issues developed by me having gone through a vasectomy.
We were quickly put at ease by the professionalism and knowledge you and your staff had of our situation.  We appreciated the fact that you gave us your assessment and recommendations and then gave us time to evaluate those recommendations.  Your staff was very helpful in setting up all the arrangements from accommodations to finances.
So, in May of 2011, we scheduled a vasectomy reversal through your office.  Again, you and the staff at St. Luke's were professional and courteous.  The procedure went well and we went home believing we had made the right decision in choosing you to help us.  The recovery at home went very well and I had very little discomfort.  Again, I thank you and your staff for all the help even after the surgery.  When we had questions, your staff was always helpful.
So, it is with great honor and pleasure that my we inform you and your staff that on December 17, 2013 at 11:50 pm our son was born.  Ryker Isaac Monroe was a happy, healthy 9lbs 6oz at birth and is now growing and smiling daily.
Thank you all very much & God Bless
Scott & Erica Haak
Belleville, IL
---
Our Story
Dear Dr. Silber and Staff,
Thanks to Dr. DeRosa and Dr. Silber I now have a beautiful, healthy baby girl. At the age of 40, I got married for the first time and was ready to start a family. After six months of trying to conceive with no luck, I had a meeting with Dr. DeRosa who did an ultrasound to check my ovarian reserve. He found that my reserve was very, very low. Dr. DeRosa suggested that I meet with Dr. Silber to discuss IVF options.
At the age of 41, I started the mini IVF procedure. In a year's time, we did three mini-IVF cycles and ended up with two good embryos. I had the two embryos implanted and one developed into a full-term pregnancy. Our baby girl is so beautiful and healthy – I couldn't have asked for more! And we could not have done it without Dr. Silber and Dr. DeRosa's help!
Thank you Dr. DeRosa and Dr. Silber!
Patrick and Pam Zoellner
St. Louis, MO
---
Varisco Story
Dear Dr. Silber,
Our dream came true!!
The most amazing feeling we have ever experienced was holding our daughter for the first time. From the second we held her in our arms, the six long years we waited for her were worth the wait. This was all thanks to Dr. Silber and his staff.
My husband and I met in High School and married shortly after college. When we decided to try to start a family, we never thought that we would have any problems. We first went to a local infertility center and had such a horrible experience. There was no compassion, no explanations about anything, they would not listen to what we wanted, and even left our infertility diagnosis on a voicemail! Very disheartened we started to look at other options thinking that pregnancy for us would never happen.
My aunt happened to be watching the Discovery Health Channel one day when The Baby Lab Documentary came on. Knowing our situation she contacted my mother who let us know about Dr. Silber. We decided to go see Dr. Silber for a second opinion, and we are glad we did. From our first meeting Dr. Silber and his staff were so compassionate, listened to us and made us feel so at ease and gave us back the hope that we could one day become parents. In March of 2009 we were all set up to do an IVF procedure but had to cancel due to both of us losing our jobs. In August of 2012 we tried again, we were able to get to the egg retrieval stage but due to some complications had to stop again. In May of 2013 on our 10 year wedding anniversary we finally were able to do the IVF procedure we had looked so forward to. Two weeks later Dina told us those wonderful words "Congratulations, you're pregnant". In February of 2014 our daughter Christine was born and we were able to finally hold our dream in our hands. There will never be anything we could ever do or say that would adequately express our gratitude to them for helping us become Christine's Mom and Dad. We look forward to the day we are able to come back to make her a big sister!
Forever grateful,
Timothy, Melissa and Christine Varisco
Plainfield, IL
---
Mitchell Story
Dear Dr. Silber and staff,
When I found out I had endometriosis I thought I would never be able to get pregnant. We actually started our journey with a wonderful office. Dr. Pineda was a very nice man.
He did help us get pregnant with undergoing IUI. I actually did get pregnant with the first try and ended up in ectopic pregnancy. After that we tried several times with the IUI's and nothing happened. Dr. Pineda decided it was time to speak with Dr. Silber, which I was so excited after our consult with Dr. Silber.
I remember after we left his office, I told my husband that this is it, he is going to help us get pregnant and we are going to be parents! We started immediately with treatment, and sure enough 9 months later I gave birth to a perfect little boy names Jaxon.
Words cannot express how thankful we are to have a man like Dr. Silber in our life who can make pregnancy dreams come true.
Truly thankful,
Mr. and Mrs. Mitchell
St. Louis, MO
---
Beck Story
Dear Dr. Silber and staff,
When my husband and I married in 2010, we decided we wanted children, but had no success. After reading Dr. Silber's book How to Get Pregnant, it dawned on me that I may never know why I wasn't getting pregnant, but obviously the infertility treatments were not working and I decided that IVF may be my only chance of getting pregnant.
In July of 2013 I started with IVF procedures and learned after my retrieval that I was not getting pregnant because I made very few If any eggs, and I likely would have never known this if I didn't have IVF. I was relieved to learn why I wasn't getting pregnant, but was nervous after the retrieval when I learned that Dr. Silber had only extracted 4 eggs. But of course, he is a real expert at helping couples with very few eggs.
To my surprise, all 4 eggs fertilized and I learned on September 2, 2013 that I was pregnant. On May 9th, 2014, Alyxandria Rose was born. She is a beautiful and thriving baby and is absolutely the joy of our lives. My husband and I are forever grateful to Dr. Silber, Dr. Pineda, Nicole our coordinator, and the rest of the Dr. Silber's team that made our little miracle possible. Thank you so very much!
Mr. and Mrs. Beck
Springfield, MO
---
Tait Story
Dear Dr. Silber,
My husband and I started to try for a baby right after we were married. After a year of trying, we knew we would need some help. This was a hard pill to swallow but we were ready to do anything. We did a few rounds if IUI with my OBGYN with no luck.
After two years of no success and two miscarriages, we looked into a fertility specialist. We went to a clinic in St. Louis and went through a few more rounds of IUI and then two rounds of Invitro. Everything seemed to be failing and we were given the diagnosis of unexplained infertility which can be the most frustrating of all. At this point we felt pretty much hopeless that we were going to be able to have our own children. I started looking into adoption and even wondered how we could fulfill life without children. I talked with a good friend who had had a baby through IVF and decided to set up a consultation with her doctor, Dr. Sherman Silber.
We set up a consultation with him to see what he had to say. I was still not sure if I could go through another round of IVF because the two failures before were so hard on me. We will never forget what Dr. Silber said in our first meeting. "We will get you a baby!" From that point on we knew he was the doctor for us.
I cannot say enough about the staff. Everyone was amazing and so helpful. My coordinator Nicole was absolutely a breath of fresh air. I felt I could ask her anything and it almost felt like I was talking with a friend. We felt so comfortable with everyone that it made the process pretty stress free….even with the mass amount of shots! We are so happy to say that our mini IVF procedure with Dr. Silber was a success! Even though it took five years, we now have a beautiful baby boy named Lawson Robert. He is so perfect and we will forever be grateful to Dr. Silber and his team.
Mr. and Mrs. Tait
Quincy, IL
---
See also:
---