St. Louis Commerce Magazine, November 2004
by Sue Britt
Download this article as a PDF.
---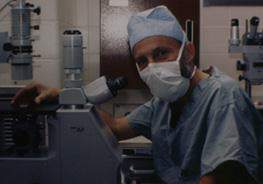 Heidi and Randy Smith, of Chesterfield, had tried to get pregnant since they were first married, when Heidi was 26. After a year of trying unsuccessfully on their own, they sought medical advice. They were sent to an infertility doctor, and Heidi was put on medicine that is supposed to help produce more eggs.
Still nothing.
The Smiths charted Heidi's temperature every day. It wasn't dropping when it should, which suggested a problem with ovulation. They went to another infertility specialist, who put her on daily shots.
"After two rounds of that, and thousands of dollars, nothing happened," Heidi says.
Then, more than four years after the Smiths first sought medical advice about their inability to conceive, she picked up the book, "How to Get Pregnant with the New Technology," by Dr. Sherman Silber. She waited to finish the school year at Warren Elementary, where she taught second grade, and then contacted Silber.
"I was amazed that this brilliant doctor, who travels all over the world, was at St. Luke's, 10 minutes from my house," Heidi says. "Whenever I have had a question, whenever I have had doubts, Doctor Silber has just looked me in the eye, looked my husband in the eye, and said, 'Relax.' When we sat in his office the first time he said, 'You will have a baby.' It wasn't a year later that we were sitting in his office with our little girl, Caroline."
The Smiths' story is not uncommon. Silber, director of the Infertility Center of St. Louis at St. Luke's Hospital, says many couples waste years of their lives and thousands of dollars on outdated treatments and unnecessary tests that have little scientific validity. Worse, he says a commercial aspect that has developed out of the current infertility epidemic cultivates inappropriate care.
"It's some of these stupid, unnecessary things that are done for infertile patients that nickel-and-dimes them up," Silber says. "It seems like it inexpensive…$50 here, $100 there, $500 there… Before you know it they've spent $10,000 on nothing of any use whatsoever. We don't do it that way. We do not do any unnecessary or fruitless expensive diagnostic procedures. We only cut right to what is going to work for them." Not that you'll be in and out of Silber's office for the price of a romantic dinner for two.
"We had it in our heads that we would do (in vitro) three times. That's $60,000," Heidi says. "People talk about the money, but you have to think about what's important…We don't travel as much as we used to, but it's fun to go walk around the park and do things that don't cost money."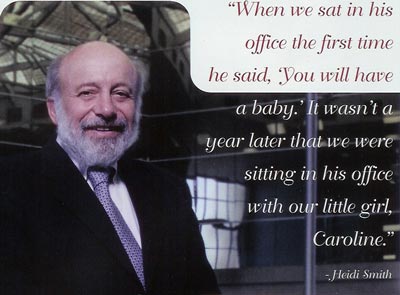 But Silber says even more important than the money wasted on ineffective treatments is the waste of time. Women in their early 20s have up to a 2 percent chance of infertility problems; by their mid- to late-30s, that number jumps to 25 percent. By age 40, more than half of all women are infertile. Silber says each trip to the doctor is another day the woman has forever lost about 30 eggs. If a month goes by, she may lose 1000 eggs.
"If you waste a year of the patient's time, you're hurting their chances of getting pregnant, because the biggest problem is that biological clock. There would be no infertility if everybody wanted to have a child when they were 18-years-old," Silber says. "If you are burdening patients with these frivolous diagnostic tests and multiple (treatments), and all this stupid stuff—that on rare occasions really is necessary…but for the vast majority of people this is absolutely just a waste of time—there is another detrimental effect. Not only is it wasting their money, but it's lowering their ultimate chance of getting pregnant because it's allowing the clock to tick fruitlessly."
One of Silber's current patients, who asks to remain anonymous, is in that over-40 group. She and her husband already have children from previous marriages, but for this couple, who found love again, making a baby together is important. The husband had a vasectomy that Silber reversed, and she takes pills and injections that will hopefully produce viable eggs.
She records how she feels every day as the hormones course through her system. It's a sort of preconception baby book. "Two days after I stopped (one of the treatments) I started to blow up like a big balloon… I was driving in my car… I could feel all this emotion. I wanted to start crying in the middle of the car. I could feel the hot flashes really bad," she says, looking at her husband with a smile. "I was a mess that night."
It has been interesting for her husband as well. He has suffered the repercussions of her hormonal ups and downs. But, as many find when they visit Silber, a sense of humor will always save the day.
"You could kill your husband, because we already have his sperm frozen," Silber jokes during their visit.
When the laughter all around subsides, Silber makes a serious point. "Once you've been through all this, this is the most romantic way possible to get pregnant," Silber says. "You really do go through an awful lot together."
For the Smiths, they say there is no regret for the money spent, the trips to the hospital for blood tests and ultrasounds every other day, the hormonal ups and downs, the soreness from the surgery, and the rest. The product of the effort is well worth it, Heidi says.
"It's heaven. She's just like heaven. She's so inquisitive and so brilliant. It's amazing to think this little person was conceived the way she was conceived, and she wouldn't be here if it weren't for Doctor Silber. It's a miracle when you think of what he does. He's making so many miracles happen for so many people who couldn't get pregnant on their own," Heidi says. "I can't say enough about him. He is just a true gift to this world."
And for the record, Heidi is pregnant again.
---
See also: