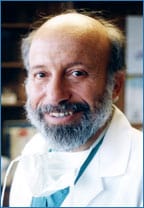 Physician of the Month – January 2009
FertilityAuthority.com
In honor of his ground-breaking work, for which he has immense enthusiasm, and his dedication to the treatment of infertility, FertilityAuthority is pleased to recognize Dr. Sherman J. Silber as "Physician of the Month."
Dr. Silber is world-renowned for his pioneering work in microsurgery and infertility. In November 2008, he performed the first successful whole ovarian transplant between identical twins, which resulted in the birth of a baby girl.
Coming in First
Dr. Silber has treated thousands of infertile couples, many with severe infertility. He is considered one of the world's leading authorities on in vitro fertilization (IVF), sperm retrieval, intracytoplasmic sperm injection (ICSI), vasectomy reversal, tubal ligation reversal, and egg and embryo freezing.
He was the first U.S. physician to perform microsurgical tubal ligation reversal, the first in the world to develop microsurgical vasectomy reversal, and he performed the first testicle transplant. In addition, Dr Silber developed the technique for retrieving sperm from men with azoospermia, along with colleagues in Brussels.
"I get letters and calls every day, not just from grateful IVF patients, but from their children, some of whom are doctors, thanking me for helping patients with infertility," Dr. Silber says.
Pro in Print and Practice
He is the author of five best-selling books, including "How to Get Pregnant" (Little, Brown, 2007), the author of three medical textbooks, and more than 250 scientific papers on human infertility and reproduction.
Dr. Silber attended medical school at the University of Michigan, and did post-graduate training at Stanford University, and then again at the University of Michigan. His clinical practice is at St. Luke's Hospital in St. Louis, Missouri, he is a scientific collaborator at Massachusetts Institute of Technology in Cambridge, Massachusetts, the University of Amsterdam, and at the Kato Clinic in Tokyo, and consults at private clinics in New York.
---
See also: