Miracle baby: Infertility Center helps paraplegic become a happy father again
By Roger Schlueter, Belleville News-Democrat
---
Now that there's talk of even human cloning, some might find the term "miracle baby" a bit passé.
Not Ken and Lori Kreher.
As tiny 2-week-old Blake Edward Kreher slept blissfully in his mother's arms one recent afternoon, "miracle" is the only word that came to mind.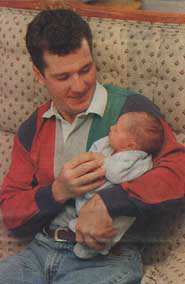 "See our calm little boy here?" cooed Lori as she showed off her newborn son, who made hardly a whimper through 90 minutes of talking, picture-taking and visitors coming and going. "Isn't he a little guy? We were just so excited. It's just a miracle. I mean it really is. A miracle."
After years of trying to become pregnant, perhaps miracle is the only way the Krehers can describe it. In some ways, it pretty much describes Ken Kreher's life the last 10 years.
In 1989, Kreher – as he now describes it – had a "bad day at work." An operating engineer at Granite City Steel, he was paralyzed when a pallet of falling building blocks struck him, breaking his back in three places and severing his spinal cord.
For three weeks, doctors didn't even work on the comatose Kreher's back because they didn't expect the then-27-year-old man to live. But after nine hours of surgery to relieve pressure on his brain and set his back, Kreher not only pulled through, he has gone on to become a world-class wheelchair athlete.
One prize, however, kept eluding the Krehers: a sibling for daughter Kelli, who was just 6 months old when her dad was hurt. Soon after his recovery, Kreher, like many paralyzed men, began investigating the only option he thought was open to him: a "nasty" procedure known as electrical ejaculation – EE for short.
For six years, Kreher periodically traveled to Columbia, Mo., to have current shot through electrodes placed near his prostate gland. And time after time, the Krehers returned home without success.
Finally, while training for the paraolympics, a trainer urged Kreher to call Dr. Sherman Silber at the Infertility Center of St. Louis at St. Luke's Hospital. Kreher was understandably skeptical. Yet in just six months – on the second try – his wife was pregnant and, after an uneventful pregnancy, Blake Edward entered the world at 11:15 a.m. Jan. 8. "This is the first procedure since I've been a paraplegic that's been completely successful," Kreher said. "I mean I've tried a lot of different things, and this is the first that was 100 percent successful." And, when Blake is old enough to understand, he'll realize his conception was nothing short of mind-boggling. For starters, instead of zapping Kreher with electricity, Silber used a short surgical procedure to remove sperm directly from Kreher's testicles. Silber calls it testicular sperm extraction or TESE. Then, using the tiniest of tools under a microscope, Silber managed to inject individual sperm into the eggs that surgeons had harvested from Lori Kreher. It's known as intracytoplasmic sperm injection or ICSI. Finally, instead of simply putting the resulting embryos back into Lori's uterus as he did the first time, Silber surgically placed the fertilized eggs into Lori's fallopian tube. Zygote intrafallopian transfer or ZIFT – has a pregnancy rate of about 50 percent per try, Silber said. But forget the medical terms. When Lori, 34, found she was pregnant in May, the only term that crossed her mind was "ecstatic. I about fell out of my chair," said Lori, describing her reaction when her doctor, who unbeknownst to her had called for her blood test results, gave her the news. "I was like crying. I wish (Ken) would have been there. I could hardly drive home I was so excited." Kelli, who has wanted a little brother or sister since she started school, started to bubble over as soon as her mom picked her up at school and gave her the news. When the two arrived home at their spacious farm house 5 miles south of Freeburg, Kelli ran in to inform her father, "You're going to be a dad!" "It was overwhelming," Ken Kreher said. "I mean it was great. I was speechless." Still, nobody was happier than Silber himself. "I was thrilled," he said. "You have to be objective, but I have to say that they're such a special couple that have overcome adversity with a smile on their face that everybody in the office was ecstatic. I mean everybody jumped for joy. They're the kind of people who should have kids because they're just going to do the most amazing job of raising them." Yet Silber knows there are countless thousands of men – men who are paralyzed or have cystic fibrosis, for example – who are unaware of the latest advances in fertility treatments. Like Kreher, he says, many are still subjecting themselves to the EE technique, which is both uncomfortable and has very limited success. "My body would be just totally wiped out for days," Kreher said, describing how he would feel after going through a procedure. "It was almost like a flu symptom that you just couldn't get rid of. And, I mean it was really messing with my training regimen." The trouble, Silber said, is that even if you can harvest sperm through electrical ejaculation, the sperm are of such poor quality that they can't fertilize an egg if left to their own devices in a petri dish. So, 10 years ago, Silber began using his sperm extraction procedure and then started combining it with ICSI five years later. In women under 30, the combo can produce pregnancy rates of up to 60 percent per try, Silber said. But although his wife was optimistic, Kreher had his doubts. When given Silber's number, he left it to his wife to make the initial call. "I've just heard so many stories," Kreher said. "People tell you you're going to walk again and, in the early stage of an injury you're gullible for that stuff. You want it — sure you do — but you set yourself up for a crash. And the depression will eat you up if you let it, that is." But Silber says he knew the ICSI procedure would not only work, it would also offer the Krehers other advantages. With a simple surgical procedure using a tiny incision in the scrotum, Silber can extract up to 80 million sperm.
"Just some tightness in my stomach where I have some sensation," Kreher said of his recovery from the operation. "And, pretty much just that same day. Nothing at all like the EE program." Even if only 1 percent of the sperm are alive, you're still talking about upwards of 800,000 motile sperm. Those that aren't used for one try can be frozen, meaning that one extraction procedure can be good for a lifetime. Breathtaking advances in sex-cell manipulation and fertility knowledge have further heightened Silber's success rates. For example, Silber learned that if you inject a healthy sperm into an egg, the sperm will actually keep swimming and destroy the egg. Now, Silber actually has to break the tail of this thing you can't see with the naked eye and then inject it. Scientists have also found it's better to culture embryos in the woman's own blood and, when necessary, to put the embryos into the fallopian tube rather than the uterus. And, by actually cutting a small hole in the outside of the embryo's shell, doctors can improve the chances of pregnancy even further. Still, it's not an exact science. When Lori Kreher first went through the program last January. doctors were able to harvest nine eggs for the ICSI procedure, but she failed to become pregnant. "I was bummed out when it didn't work the first time," she said. "But I thought we had a much better chance getting pregnant with Dr. Silber anytime than we did with anything else that we had done before." Tweaking her hormone regimen a bit, doctors manage to produce 21 eggs when the Krehers tried again in April. This time, surgeons were able to implant five healthy embryos into Kreher's fallopian tube. The question soon became: How many babies would she have? "That was a little bit nerve-wracking to know that you have all those eggs in there that could be making babies," Ken Kreher said. "But we would have survived whatever. We're just happy we had one healthy little one." Lori Kreher figured it's just what the doctor ordered for her husband. "I think Kelli, being a baby, kept him going after the injury," Lori said. "It was like 'You can't be a baby, you've got a baby.' So I think Kelli was good for him then and I think he's good for him now." "Besides me, of course," she added with a quick laugh. Later this year, Ken Kreher, who is currently nursing an ailing shoulder, expects to rejoin the wheelchair racing circuit, for which he often trains 100 miles a week or more down country roads near his home. Sponsored by Roho and Crown Therapeutics of Belleville, Kreher in his career has raced in London, zoomed down the Boston Marathon's Heartbreak Hill at 42 mph and missed qualifying for the paraolympics by the thinnest of margins. Now, with Blake Edward in tow, he knows he'll be a winner at those races whether he's first across the finish line or not. "When we found out we were pregnant last year and were going to all these races, he was like the hit, you know?" Lori Kreher said. How did you do it?' 'Who did you talk to?' They all want to know how it happened because that's the big thing: People in chairs still want to have a family." "I've known guys who have lost marriages because they can't have children," Ken Kreher added. "But I know now there's a source Out there. Obviously, Dr. Silber knows what he's doing and he's confident about it."