Cross-cultural Fertilization: Dr. Sherman Silber Takes His Reproductive Technology to China
By Jeannette Cooperman
St. Louis Magazine, August 2012
---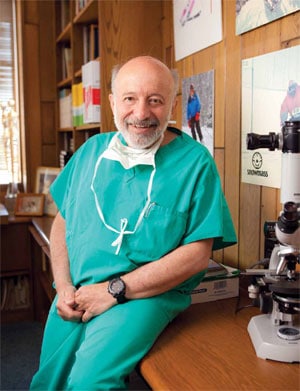 When I was 20, and I learned that my body was storing about 400,000 eggs for the future, I imagined my ovaries as velvet pouches bulging with tiny pearls. Once a month, the drawstring would open and a single pearl would slip out…
The truth's less pretty, but infinitely more practical. The eggs are located in the ovary's cortex, its outer skin. The cortex is about as thick as a cucumber rind, so it's easy to slice off — which is how Dr. Sherman Silber made medical history in China this February.
For decades, Silber has been making babies possible. He performed the world's first successful whole-ovary transplant. And the world's first microsurgical vasectomy reversal. And the world's first testicle transplant. Now, he directs The Infertility Center of St. Louis at St. Luke's Hospital, where he's done a series of transplants using ovarian tissue from nine women's identical twins. He's also removed, frozen, then replaced ovarian tissue in three women. To date, 14 babies have been born as a result of these procedures.
Dr. Xiaoyan Liang, a professor at the Sun Yat-sen University Medical School in Guangzhou, read about Silber's work. So when a young woman couldn't have a baby because she'd gone into menopause at 20 — and her identical twin had already born the one child allotted by the Chinese government and was willing to donate the rest of her eggs — Liang called. Would Silber and his colleague in New York, Dr. John Zhang, come to Guangzhou and do China's first documented ovarian-tissue transplant?
---
All Silber asked was what kind of operating-room setup the medical center had. Then he wound up packing his own microsurgery instruments and magnifying loupes anyway, just to be sure.
"We have little special slicers," he explains. "Originally, we used scalpels. You want to get the ovary, or part of it, out first. Then, on the bench, you slice that tissue very thin — it takes about 45 minutes to slice it properly. You bring the other patient in and lay the tissue on the surface of her ovary. On any surface, really, but we'd rather put it on the ovary, because then the fallopian tube will pick it up, and the woman can get pregnant spontaneously with intercourse rather than having to go through in-vitro fertilization." The procedure works just like a skin graft: "Tiny blood vessels from the ovary grow up through the thinned bed of the cortex and revascularize it."
The twins' husbands waited nervously, but not for long: In four hours, Silber's work was done, and the women were smiling and dozy. The tissue recipient's cruelly early menopause has now been reversed, and she should have no trouble bearing a child.
The only cross-cultural confusion was over a few clamps — Silber had to play charades to get a larger hemostat, because no one recognized the term "Kelly clamp." "Their operating room was about one-third the size of ours," he says, "but they handled it so efficiently — there were 25 people in the room, and somehow they move in a way where nobody bumps into each other."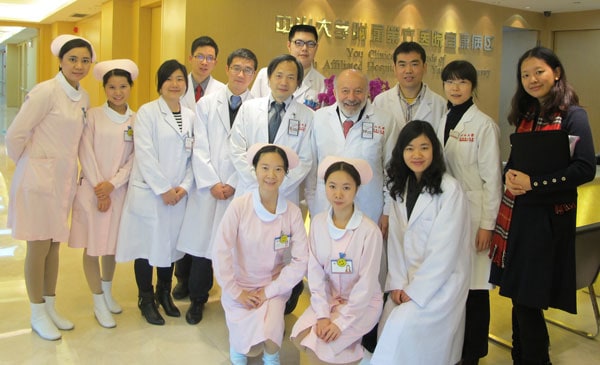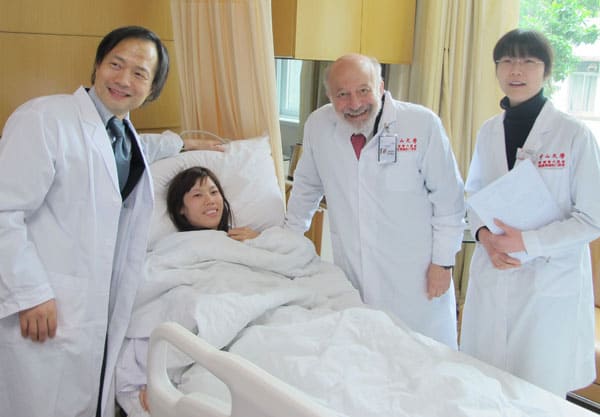 While he was in Guangzhou, Silber also taught physicians how to remove ovarian tissue from young women with cancer. Their eggs could be frozen while they underwent chemotherapy, then thawed and returned to their bodies when they were healthy and ready to conceive.
One reason to use the ovary's thin outer layer is to make it easy for blood supply to be restored; the other reason for thinning the tissue is to make it possible to freeze it safely, with an ultrafast, uniform temperature drop. "It's almost like flash-freezing," Silber says. "With bigger pieces of tissue, different areas freeze at different times and at too slow a rate. That's why we can't just walk into a freezer and come out OK in 100 years. We are 70 percent water. Ice crystals form and expand, and those crystals can kill the cells."
He muses for a moment about older people being easier to freeze because they're only 65 percent water — then brings himself back to the future. Silber envisions women who want to conceive in their late thirties or forties freezing ovarian tissue when they're 20, so that biological clock doesn't tick louder and louder. He also envisions tissue-freezing for any young woman who's facing chemotherapy, but who wants to become pregnant someday. These days, many cancer survival rates tend to hover around 90 percent, he notes, and about 1 in 250 young women is a cancer survivor.
What infuriates him is that their insurance probably won't cover the costs.
"Our insurance companies do not think long-term," Silber fumes. "This technology we invented here in St. Louis is not available to most people in St. Louis — or the rest of the United States. It will be available to all the Chinese. Infertility is one of the commonest reasons to see a doctor in China; they have had this single-child policy for so long, there's a huge graying of their population.
"So once again, because of flaws in our system, technology developed in the U.S. gets exported to China and is not available to our own people."
---
See also: